Desire Cruise Barcelona Rome – Facts at a Glance
April 28 – May 5, 2018
343 Cabin
Itinerary updated 12/12/2018: No longer going to Cap d'Agde
Barcelona, Sete (Cap d'Agde) France, Provence Marseille, Monte Carlo, Portofino, Florence, Rome
Swinger Couples Only, Clothing Optional, Full Ship Charter
This cruise is good fit for: Newbies, Open Minded Adventurous Couples, Swingers
Average age 35-65
Guests Under 45 – approximately 15% or 50 passengers
To View Prices Click 'book now'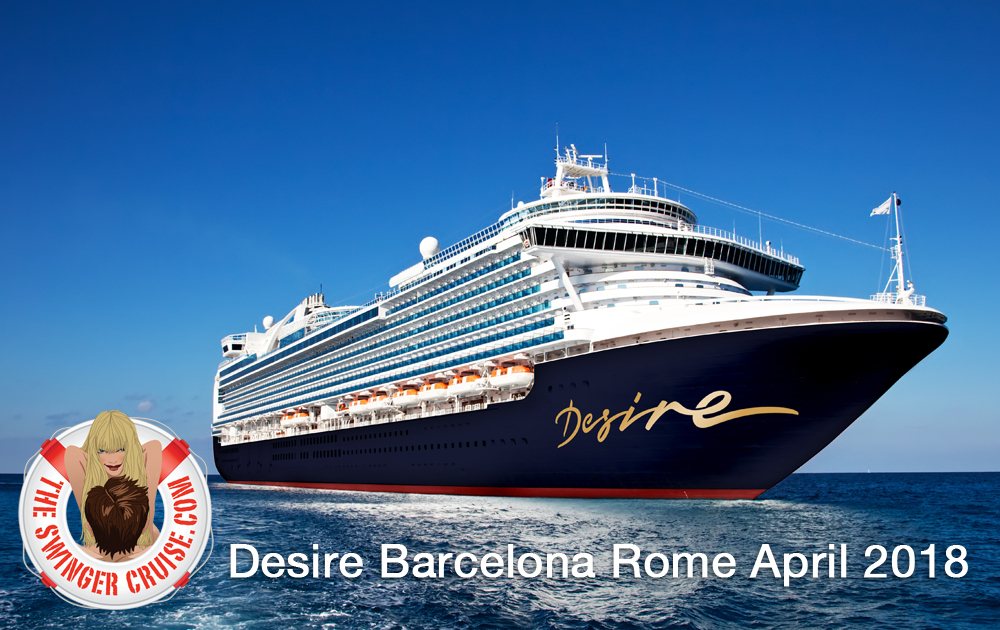 What to expect on Desire Cruise Barcelona Rome
Provocative Entertainment – Feel your temperature rise…
The Desire Cruise Barcelona Rome 2018 Cruise is notorious for its provocative entertainment program, designed especially for couples, with temperature-rising effects. The dancers and shows that kicked off the nightly theme parties were spectacular.  It really adds a special touch. The Couples Workshops were top notch.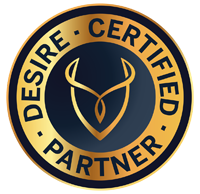 Sexy Signature Spots – Fulfill your fantasies…
Desire Cruise Barcelona Rome 2018 offers exclusive, designated spaces that stay true to the collection's concept, like clothing-optional pool areas & signature Playrooms. While the playrooms are scheduled for improvements on this cruise, the sensual spots like the front spa jacuzzi deck were perfect escapes.
Deluxe Amenities – Live the Luxurious Life at Sea…
Desire Cruise Barcelona Rome 2018 is sailing on a leading luxury cruise line.  While we aren't supposed to list the name of the ship online, it truly is our favorite.  Give us a call and we will tell you all the reasons we LOVE it.
Breathtaking Dining Experience – Savor the sensual side to dining…
Desire Cruise Barcelona Rome 2018 will delight in a choice of six distinctive dining options, including room service. We love all of the venues for different reasons.  The main dining room is a great way to meet other couples, the back deck on the buffet is the most scenic casual dining to be found anywhere.  The specialty restaurants are very good and the Chef Table is top.
Desire Cruise Barcelona Rome 2018 Itinerary
DAY
DATE
PORT
ARRIVAL
DEPARTURE
1
4/28/18

Barcelona, Spain

2
04/29/18

Sete, France Sea Day

08:00
3
04/30/18
Provence (Marseille)
08:00
21:00
4
05/01/18

Monte Carlo, Monaco

08:00
23:00
5
05/02/18

Portofino

08:00
23:00
6
05/03/18
 Florence / Pisa (Livorno), Italy
08:00
7
05/04/18

Florence / Pisa (Livorno), Italy

19:00
8
05/05/18

Rome (Civitavecchia), Italy

06:00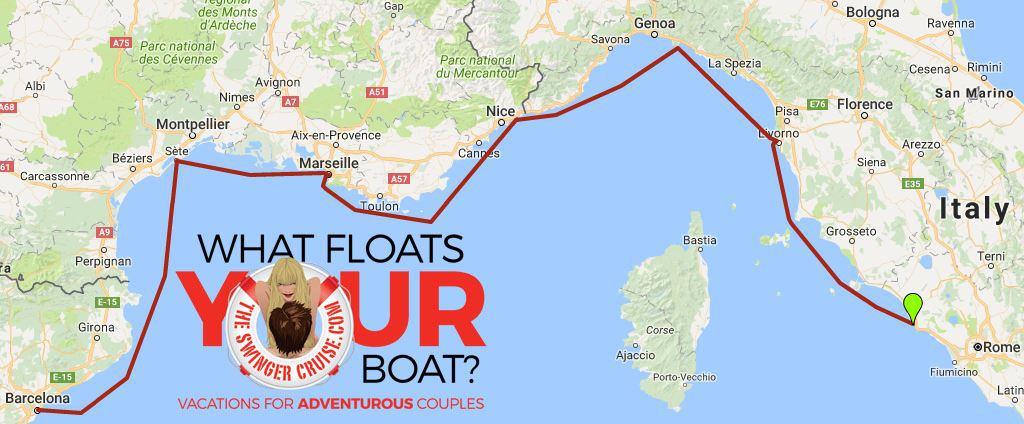 Desire Barcelona Rome Cruise Theme Parties
The theme parties on this cruise are designed to help you step into expressing your inner desires.  Let go, immerse yourself in the fantasy of it.  Guests who dress in theme report more social interaction and more fun.
You can go all out on a costume or simply echo the theme with an accessory.  Not in the mood? No problem it's all about doing your own thing with your partner and having a wonderful time.
Desire Barcelona Rome Cruise Theme Nights:
Black & Gold Gala – Glitz and Glamour shine in tonight's luxurious theme.  It's also formal night, and a night to show up dressed to the nines!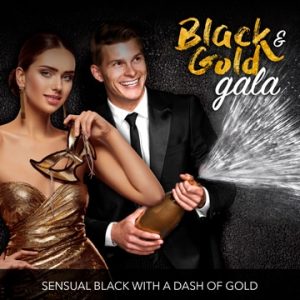 Girls of Moulin Rouge – Tonight you take center stage with your partner.  Hopefully, you'll have some fun speaking the language of love in this Cabaret of love and lust.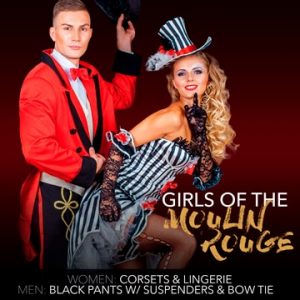 Let It Glow – Shine on, you crazy sexy diamonds.  Think neon, think glow-in-the-dark paint and anything blacklight reactive! Light up the night with your wicked selves!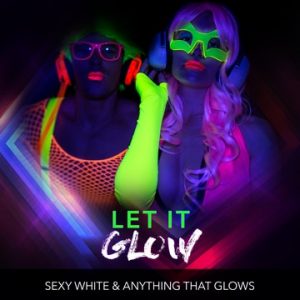 Pirates of the Mediterranean – Don't be afraid to plunder booty, and raise the "main sail" tonight. Drink up me harteys, yo ho!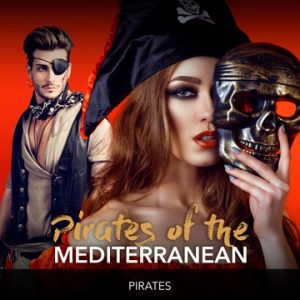 Gods & Goddesses – Will you be the almighty Zeus? The God of wine, Dionysus, or perhaps mix and mingle with a few Aphrodities tonight? All of that is possible, and more when you climb Mount Olympus!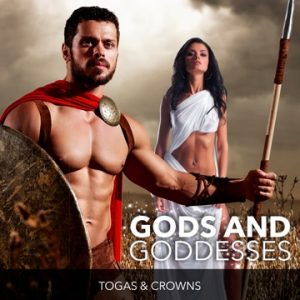 Savage Sailors & Playful Pin-Ups – Sail the seven seas with your sexy sinners, sans sailing-garb… So sexy!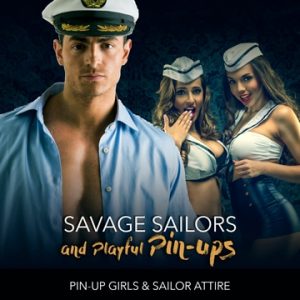 Need For Speed – Rev up a few engines tonight and prepare for a "Grand Prix" on the dance floor, and don't forget to assemble your "pit crew" tonight…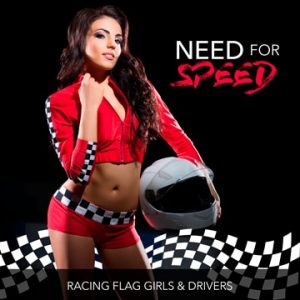 Desire Cruise Barcelona Rome Accommodations & Dining Information
The ship is completing a complete renovation in April 2016.  We have included a few renderings for the new design.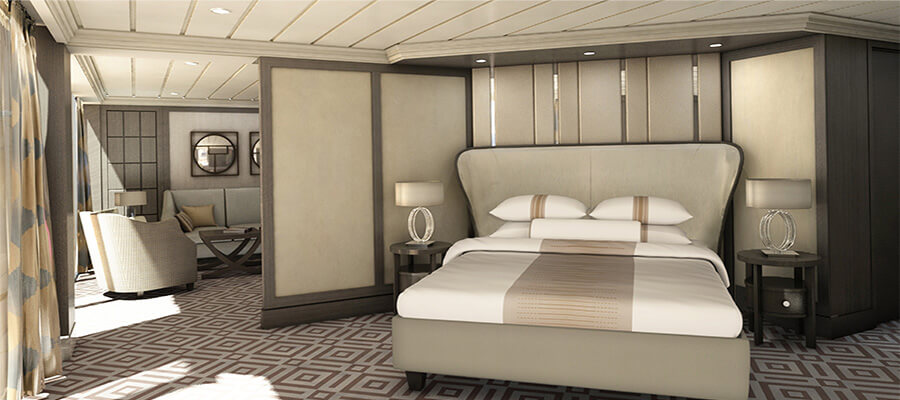 Club World Owners Suite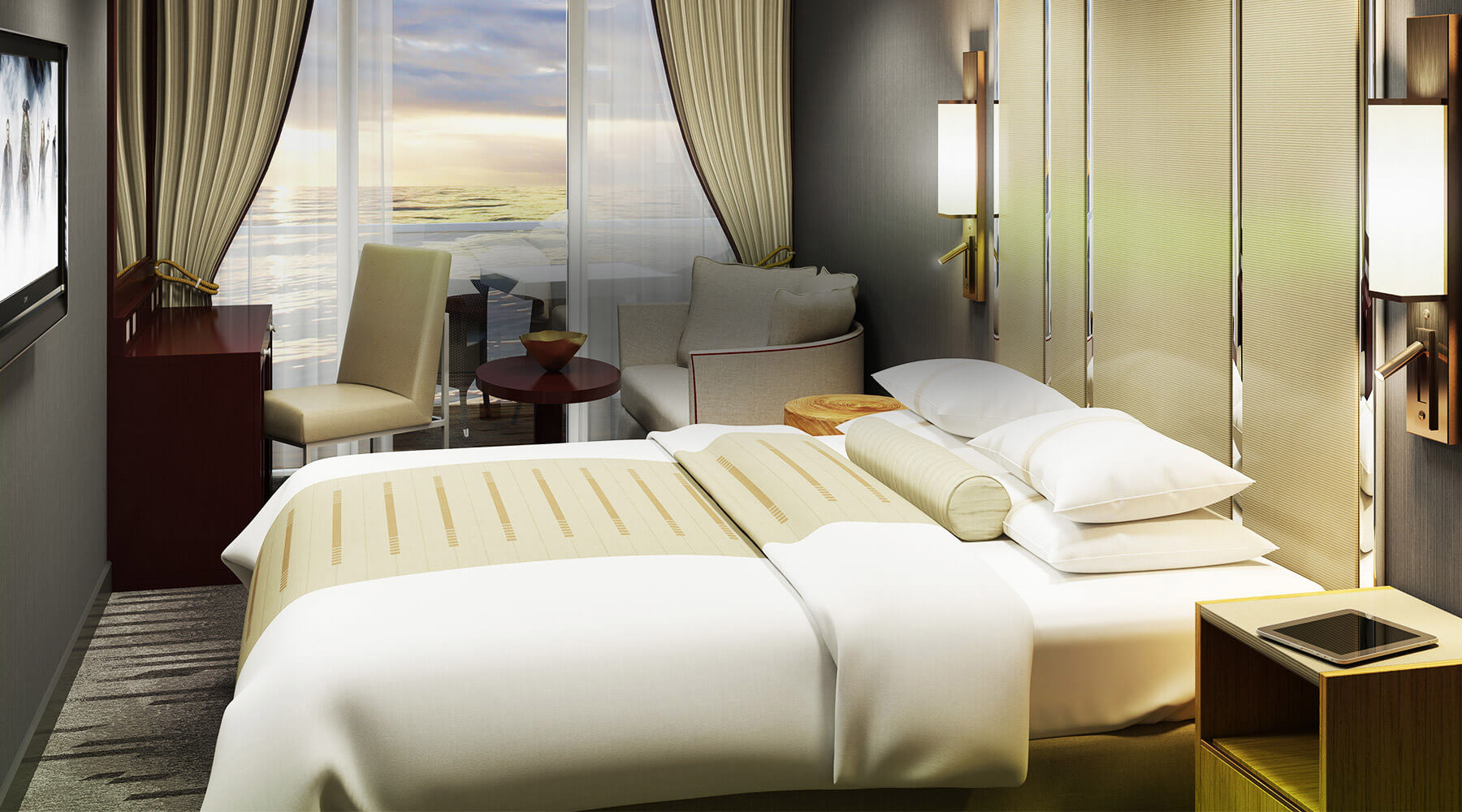 Deluxe Verandah Stateroom
Ship and Stateroom Details
All staterooms on Azamara Club Cruises come with:
Complimentary stateroom attendants
Daily fruit basket
Fresh cut flowers
24-hour room service
Sweet surprise on your pillow each evening
Afternoon canapés
Complimentary shoe-shine service
23″ plasma television
Personal stationery
Elemis bathroom products
Two nights of complimentary specialty dining
One complimentary large bottle of water
New European bedding
Complentary use of binoculars, umbrellas and plush robes
Destination-influenced entertainment and enrichment programs
Meals and room service
Selected house pouring wine with lunch and dinner is now included
Specialty Dinning in Prime C and Aqualina available (complimentary for suite guests), with a minimal upcharge for guests in Club Veranda, Club Oceanview and Club Interior staterooms
All suites come standard with all of the above, plus
English butler service
Priority check-in and departure
Priority luggage delivery at boarding
Three nights of complimentary specialty dining
Complimentary garment pressing (limit of two items per person upon embarkation
Opportunity to book in-suite spa services
Priority tender service
Welcome champagne
Desire Cruise Barcelona Rome Dining
Fabulous Cuisine for every Taste
Azamara offers a choice of six distinctive dining options, including room service. Whether you're a fan of haute cuisine or down-home cooking, you'll love the quality reflected in the fresh ingredients, careful preparation, and variety of menu choices. Let's have a taste.
Specialty Dining & Fine Wines
Azamara proudly features two specialty restaurants, Prime C and Aqualina. Specialty dining is complimentary for suite guests (Club World Owner's Suites, Club Ocean Suites and Club Continent Suites). For others, there is an added charge approximately $25 per-person cover. Reservations are highly recommended.  Make reservations when you complete online checkin or see the maitre'd when you board.

Aqualina
You'll love the contemporary, inventive Italian cuisine at Aqualina, with two new rotating menus.  Enjoy a fresh experience of Italy's most famous dishes including pastas, poultry, fish and veal. Starters include beef tenderloin carpaccio with orange oil, lobster ravioli, and seared tuna wrapped in veal, followed by second courses such as sweet pea and fennel soup or delicious salads of watermelon and tomato or arugula and radicchio with prosciutto chips. Main courses include forest mushroom risotto, a perfectly grilled veal chop, a Venetian seafood platter or delicate dover sole. Save room for Azamara's famous desserts like marsala custard, lemon soufflé, tiramisu and chocolate torte. Hours: 6PM–9:30PM Location: Aft-Port – Deck 10 Sample:Menu 1 Menu 2
Prime C
Settle in for a marvelous evening the steakhouse with stunning views and lush autumn décor. The menu includes steaks in a variety of cuts cooked to perfection, along with starters like crab cakes with remoulade, lobster bisque, wedge salad with bacon and blue cheese, and more. Other entrée choices may include lamb, pork, veal chops, game hens and seafood. Indulge in the famous mini cinnamon-sugar donuts with a trio of dipping sauces for dessert.
The Wine Cellar
From France to California, and Argentina to South Africa, the Wine Cellar will delight your palate with a vast collection of limited production, small label and rare vintage wines. Our knowledgeable sommeliers will help you pick the perfect wines for your evening meal. And be sure to look to the daily onboard news for Wine Corner gatherings in the Mosaic Café, when you can discover and sip new wines with the sommelier's guidance. Something extra: Arrange a wine tasting here. Ask our sommelier or concierge for details. Hours: Specialty restaurant dining hours and by appointment Location: Prime C
Discoveries Restaurant
With a wide variety of nightly selections like filet mignon with black truffle sauce, Discoveries Restaurant is a hands-down favorite for an elegant yet lively dining scene. Reservations are not accepted, and you have the choice of being seated at a table for two or as part of a larger group of fellow guests (which is a great way to meet new people). Discoveries Bar is also a great gathering spot for drinks before or after dinner. Breakfast: 8 AM–9:30 AM Lunch: 12 PM–1:30 PM Dinner: 6 PM–9:30 PM Location: Aft-Deck 5
Pool Grill
Dine poolside on made-to-order fish-kabobs, burgers, fries and salads. There's more: Don't miss the famous pool deck parties, when servers may include a few friendly officers. These parties are legendary for great food, music and conviviality. Hours: 11 AM-6 PM Location: midship-Deck 9
Windows Cafe
Take in the fresh breeze at an outdoor table in Windows Café, our casual buffet offering made-to-order breakfasts and a large variety of lunch and dinner options. Choices change daily and include fresh sushi, stir-fry and pastas, salads, smoked lox and other cold fish, a carving station and sumptuous desserts. There's more: Don't miss the buffets! Indian, Mexican, Spanish, Italian, and other regional cuisine. Our international crew takes pride in their native cuisine and it shows. Hours: Early Riser: 6:30 AM–7 AM, Buffet Breakfast: 7 AM–10 AM, Late Risers' Lite Breakfast: 10 AM–11 AM, Lunch Buffet: 12 PM–2:30 PM, Afternoon Tea: 3:30–4:30 PM, Casual Dinner: 6 PM–9:30 PM Location: Aft-Deck 9
Mosaic Cafe
Sink into a comfortable chair at the Mosaic Café and enjoy an espresso or hot tea with fresh biscotti, tea sandwiches or scones—on the house, of course. Centrally located on deck five, the Mosaic's congenial service and atmosphere make it a favorite gathering spot for conversation, cards and trivia games. When: Most of the day, from early morning to late night Where: Amidship-Deck 5 Dining: What (and What Not) to Wear
In all of our dining rooms, we encourage guests to follow a "resort casual" dress code, following good taste and common sense.
Bare feet, tank tops, baseball caps, bathing suits, shorts, and jeans are not allowed in the main dining room or two specialty restaurants. (Khakis and other trousers are fine.)
When dining at Windows Café, guests must wear footwear and a cover-up or shirt.
In Prime C, Aqualina and Discoveries Restaurant, many guests enjoy dressing up. Formal evening wear (tuxedos and gowns) is not expected. We recommend that men bring a sport coat or suit; this attire comes in handy for evenings onshore as well. For women, dining attire includes dresses, skirts, blouses with pants and capris, and other appropriate attire.
Room Service
The best time for room service? Whenever you say it is, 24-hours a day. Order from the full breakfast menu between 6:30 AM and 10:00 AM, and they will deliver at your appointed time. Lunch and dinner room service features a menu of hearty soups, fresh salads, gourmet sandwiches, pizzas and desserts.
Desire Cruise Barcelona Rome What's Included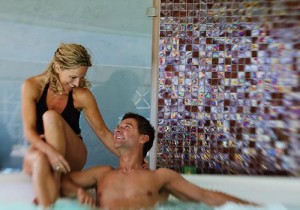 Cruises are a great value because so much is included.  That includes all of your meals at all the restaurants and room service. (except at the specialty restaurants where you will have a slight up charge.)
Entertainment and theme parties are included.  There will be pool parties by day, theme parties every night and sexy playrooms for exploring the more erotic aspects of this cruise.
Drinks are not included.  Consider getting the drink package if you want be truly care free and not have to put any thought to how much you are spending.
Tours off the ship and Spa treatments are the other things you will want to budget a bit of extra $ for.
Wine is included at no additional cost with lunch & dinner.  
Drinks are NOT included.
Consider getting the drink package if you want be truly care free and not have to put any thought to how much you are spending.
Once we get to the point where you have completed online check in, experienced cruisers may notice a few things missing from the Azamara online system.
Not available online thru online check-in:  drink packages, lifestyle shore excursions, specialty dining packages and bundles.   
We want to make sure You know that what is included in a full ship charter is different than a regular Azamara Cruise.  Just an FYI for you good research types, the details & prices listed on the Azamara web site do not apply to this charter.
The full ship charter does not include any type of liquor/drinks package.
*All beverage packages can be purchased on board at the time of check-in, in Venice, Italy.
Premium Drink Package: 
$43.95 USD per person/per day
Spirits: Absolut, Ketel One, Stolichnaya, Canadian Club, Crown Royal, Jameson, Johnnie Walker Red Label, Captain Morgan, Myers's Original Dark, Tanqueray, Bombay Sapphire, Disaronno Amaretto, Kahlúa, Southern Comfort, and more…
Beer: Boddingtons Pub Ale, Bohemia, Buckler, Carlsberg, Corona, Dos Equis, Grolsch, Guinness, Heineken, Leffe, Murphy's Irish Stout, Newcastle, O'Doul's, Peroni, Pilsner Urquell, Red Stripe, Smirnoff Ice, Stella Artois, Strongbow, Warsteiner
Ultimate Drink Package: 
$65.95 USD per person/per day
All items from the Premium package, plus:
Spirits: Level, Belvedere, Effen, Cîroc, Christiania, Grey Goose, Tanqueray No. Ten, Hendrick's, Zacapa 23, Jack Daniel's, Maker's Mark, Baker's, Woodford Reserve, Knob Creek, Highland Park Aged 12 Years, Johnnie Walker Black Label, The Balvenie, The Macallan Select Oak, Laphroaig, Chivas Regal, Glenfiddich, The Glenlivet, Don Julio Blanco, Courvoisier VS, Courvoisier VSOP, Rémy Martin VSOP, B&B, Baileys Irish Cream, Bénédictine, Chambord, Cointreau, Drambuie, Grand Marnier, and more…
Wine: Martini & Rossi Asti, Domaine Chandon Brut Classic, Seaglass Sauvignon Blanc, DeLoach Chardonnay, Gabbiano Pinot Grigio, Beringer White Zinfandel, Trumpeter Cabernet Sauvignon, DeLoach Merlot, Callia Alta Malbec
Nespresso: Ristretto, Espresso Forte, Ristretto Origin India, Espresso Leggero, Lungo Forte, Lungo Leggero, Espresso Decaffeinato, Lungo Decaffeinato
Water: Evian, Perrier, San Pellegrino
Carry on Wine: As a possible consolation, the policy on carry on wine is also quite relaxed.  We have carried on wine far in excess of the usual rule of 2 bottles per cabin.  We have also on past cruises restocked in port and carried bottles of liquor.
Amenities Included:
Select house wine served during lunch or dinner only
Unlimited Bottled water, soft drinks, specialty coffees and teas
Concierge services for personal guidance and reservations
For Suite Guests:
All standard amenities plus:
English butler service
complimentary Internet minutes
One free bag of laundry service per suite, all seven days
Complimentary dining in the specialty restaurants
Afternoon tea service in suite
Pricing, Policies and Insurance for the Desire Cruise Barcelona Rome
Pricing
The best pricing strategy is to book early. Prices are always released at the lowest rate and get higher closer to departure.
Suites sell out almost immediately.  Book Early
For up to date pricing please consult the online booking link.  
Desire Cruise Barcelona Rome Policies
*Reservation Policy* Please read this document carefully, and follow the instructions found in the confirmation e-mail. In case you need to change, cancel or do not show-up, this reservation policy will apply.
– Initial deposit for a guarantee reservations will be required: All staterooms $1,000 USD and Suites $ 3,000 USD.
– Full payment must be received 4-months prior to your sailing date (December 18, 2017).
– Credit Cards Accepted: Visa, MC & American Express
– All Charges will appear on your bank statement as: "OPERADORA DE YATES DE CANCUN SA DE CV"
*Balance Payment Calendar:
For exact payment dollar amounts please see the booking form at check out.
Deposit at time of Booking – $2,500
January 29th, 2018 – 35%
February 28th, 2018 – 35%
March 15th, 2018 – 30%
Desire Cruise Cancellation Policy
Cancellation up to January 29th,2018 – Full refund minus $750.00 p/p
Cancellation after January 29th, 2018 – No refund will apply.
Cancellations must be submitted in writing by e-mail. The subject line should read: Cancellation Request.
Important Notes: 
a) American Express: All American Express charges are reflected in Mexican pesos, based on the daily exchange rate. Be aware that if you pay with American Express, your card will be subject to a surcharge in Mexican pesos, according to the hotels current exchange rate, which is variable.
b) Please be advised that your bank might charge you a fee when using your credit cards (Master Card, Visa OR American Express) for international transactions.
c) On your bank statement the charges will appear as: "OPERADORA DE YATES DE CANCUN SA DE CV".
*Requirements* Due to new Government Regulations requiring cruise liners to submit final department manifests at least 60-minutes prior to sailing, guests are requested to complete their Online Check-in no later than 5-days prior to the cruise. Guests that have not completed their Online Check-in, will be required to complete this process at the pier, 2-hours prior to the published sailing time.
Please note: All guests must be checked-in and onboard the ship no later than 60-minutes prior to the published sailing time or they will not be permitted to sail.
*Credit Cards Safety* At www.originalcruises.com we want you to feel safe and secure booking your trip with us online. For this very reason, we use Secure Socket Layer (SSL) technology to encrypt your credit card and other important information while making your reservation. The process of encryption prevents unauthorized viewing of your information, as it is securely transmitted over the Internet. Once received, your credit card information will not be transmitted over the Internet again.
*Travel Documents* Your final travel documents will be e-mailed to you as soon as we receive FINAL payment. Please check your documents for accuracy immediately upon receipt. Call Original Cruises immediately if you have any questions. Original Cruises reserves the right to charge processing fees in the event of refunds, cancellations or additional services. Should a dispute occur, charge-backs will be reviewed on an individual basis. You will be charged/billed for all accumulated costs involved, taking into consideration our liabilities, policies & responsibilities.
*Disclaimer of Liability* Original Cruises is acting only as an agent for suppliers in selling travel related services, or in accepting reservations for services that are not directly supplied by Original Cruises (such as air & ground transportation, hotel accommodations, meals, tours, cruises, etc.).
Original Cruises, therefore, shall not be responsible for breach of contract or any intentional or careless actions or omissions on part of such suppliers, which result in any loss, damage, delay, injury or death to you or your travel companions or group members. Unless the term "guaranteed" is specifically stated in writing on your ticket, invoice or reservation itinerary, we do not guarantee any of such suppliers' rates, bookings, reservations, connections, scheduling or handling of personal effects.
Original Cruises shall not be responsible for any injuries, damages or losses suffered by any traveler in connection with terrorist activities, social or labor unrest, mechanical or construction failures or difficulties, diseases, local laws, climatic conditions, criminal acts or abnormal conditions or developments or any other actions, omissions or conditions outside the control of Original Cruises.
Travelers assume complete and full responsibility for, and hereby release Original Cruises, from any responsibility in: checking and verifying any and all Passports, Visas, vaccinations, or other entry requirements of each destination, and all safety or security conditions at such destinations, throughout the length of proposed travel.
For information concerning the possible dangers in international destinations, contact the Travel Advisory Section of the U.S. State Department.
For medical information, call the Public Health Service. By embarking upon his/her travel, the travelers voluntarily assume all risks involved in such travel, whether expected or unexpected.
Travelers are warned of such risks and are advised to obtain appropriate insurance coverage against them. Traveler`s retention of tickets, reservations or bookings after issuance shall constitute consent to the above, and an agreement on his/her part to convey the contents hereto to his/her travel companions or group members.
We recommend travel insurance.
Travel Insurance
Yikes, travel insurance is not a fun topic but a lot of you have asked…
This is about what happens if you are paid, packed and ready to go… and there is a problem.
The biggest 2 reasons people take insurance are:
Trip Cancellation
Medical Expenses or Medical Evacuation
Full Ship charters are better than regular cruises in many ways, however the penalties and potential for a loss if you have to cancel is higher. Shortly after final payment most full ship charter cruises become non-refundable. That means if you have to cancel your trip not only do you have that disappointment of a cancelled vacation, but I have to tell you you don't get your money back.
Our most popular insurance is 'World Wide Trip Protector' and provides full coverage when purchased up to 21 days after your vacation purchase.
The best value just to make sure you have coverage is 'Trip Protector Lite Expanded.'
We recommend Travel Insured – Get a quote and buy insurance  
Note: this link opens a window for Travel Insured – if you have questions pleases phone our office for assistance.
Please consider purchasing Travel Insurance
Since everyone pretty much likes me right now and I'd like it to stay that way, please consider purchasing travel insurance. Or at least don't say I didn't warn you if there is a problem.
Other coverages that take the worry out of travel:
Trip Interruption – Return air only
Trip Delay & Missed Connection coverage
Baggage Loss or Delay
Cancel for Work Reasons Options available on select policies
We strongly recommend purchasing travel insurance for your upcoming cruise. There are hundreds of circumstances that could cause you to cancel your trip, return home early or force you to seek emergency medical treatment while traveling. Travel insurance offers coverage for unforeseen problems such as, an unexpected financial change or scheduling conflict, a cancelled flight or a serious illness. You even have the option where you can cancel for any reason. We recommend Travel Insured – Get a quote and buy insurance
Desire Cruise Barcelona Rome Pre-Cruise Options
Our unique pre-cruise events include accommodations, curated activities, VIP transportation, culinary exploration, music, fun and magical connections.
Get ready to form lifelong friendships while we explore the sensual side of Barcelona.
Our delightful, boutique, 4-star hotel is located in the famous high-end shopping district, Paseo De Gracia.
This puts you in the center of modernist Barcelona and opposite Gaudí's La Pedrera.  This location is perfectly situated a short walk to the historic center Plaza Cataluña, the famous Ramblas and Gothic Quarter.
[Click here] for more details
Desire Cruise Barcelona Rome Post Cruise Options
Don't just go sightseeing… Live the Experience!
Accommodations in a Luxury Boutique Hotel near Piazza Campo de' Fiori. The art to truly experiencing a destination is in selecting the perfect location. This location is perfect! Our delightful boutique 4-star hotel is located in the heart of Rome and situated on the Piazza Campo de' Fiori.
Just steps from the hotel you will find yourself in a typical Roman atmosphere in the Piazza Campo de' Fiori, a lively picturesque morning market with fresh fruit and vegetables.  It is pretty much the only open-air market left in the center of Rome (except for the one in Trastevere). As the sun goes down the piazza turns into a magical living room where people meet for a carefree appetizer, cocktail or wine, and to taste the many Roman specialties in the numerous restaurants or trattorias.
From our hotel, you can walk to all of the marvelous monuments of the center of Rome such as Piazza Navona, Pantheon, Piazza Venezia, Colosseum, Roman Forum, Trevi Fountain, Spanish Steps, Castel Sant'Angelo and the Vatican City.
[Click here] for more details.
Why book the Desire Cruise Barcelona Rome
Desire Cruise Barcelona Rome 2018 has Sexy Signature Spots  Experience pure ecstasy at sea in these special spaces:
Clothing Optional Pool Area
Signature Playroom
Private Jacuzzi Lounge
The Desire Cruise Barcelona – Rome Itinerary is Simply Spectacular! Our favorites include:
Barcelona is one of our favorite city on earth. We love the culinary exploration of tapas and Spanish wines.  The gothic quarter seduces us with it's winding ancient streets. We love exploring at night.
Sete France is the gateway to the Naked City of Cap D'Agde
Portofino is a story book town with pastel buildings clinging to the hillside. Wander the markets or enjoy lunch with a spectacular  view overlooking the sea.
End this cruise in Rome – the Eternal City at the perfect time of year! Join us for a 2 or 3 night post cruise stay in the heart of it all.
What Past Guests Have to Say…
The quality of the dining on Azamara is second to none!  Our favorite was the Chef Table Dinner.
We took full advantage of all the gourmet offerings and started a new tradition by turning the "afternoon tea" into a the kick of for our afternoon room party! We stocked up on sweet and savory provisions from the tea-trolly, got a few bottles of champagne and hosted quite the fete!
We loved the theme parties on our last cruise with Desire Cruise.
One thing that made it special was that everyone was dressed up beautifully.  We felt really special to be included in such an amazing group. There were so many possibilities.  Mrs says she never felt sexier.
It was so exciting to be part of such a vibrant group of people all dancing sexy and having fun.
The first time we booked we weren't sure if we would fit in. We are in our mid 30's and Lynn assured us that our desire for the finer things in life would be the key to fitting in with this group. She was right!
We expected couples age 45-65 and we were surprised how many young couples there were!  We loved every moment of that cruise and cannot wait to get on the SDC Caribbean Swinger Cruise!
Why You Should book with TSC
TheSwingerCruise.com is the only agency with ALL the cruises.
TSC Expert Agents provide first hand experience.  We have sailed on over 23 Swinger Cruises and will help you find the one that perfectly fits your style.
Our Signature 'Get Ready' program provides all the information you need before you board the ship so you can get the most out of your vacation.
We create VIP Pre-Crusie authentic emersion events.  Board the ship with a whole group of new friends.
'Must Read' Swinger Cruise Articles
We have been on over 23 full ship charters.  Here are a few articles we have written to answer your questions, calm any worries, and get you excited for the 'Best Fu@%ing Vacation!'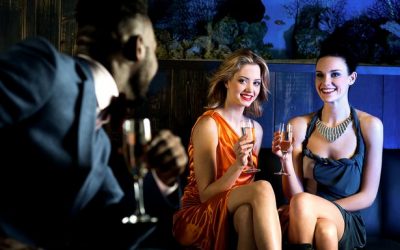 7 Must Do Tips for Ladies New to the Lifestyle Everyone has heard that in the lifestyle the ladies 'control the deal.' As the lady half of a lifestyle couple with over 15 years experience, I've often noticed that some ladies LOVE being empowered by this idea while...
Desire Cruise Barcelona Rome 
April 28 – May 5, 2018
Explore the enchantment of the Gothic Quarter of Barcelona across the Med to the Eternal City of Rome.
Join 343 beautiful couples from all over the world.
Imagine sailing in this sensual environment.
Explore the gems of the Mediterranean by day.
Enjoy erotic theme parties every night.