Desire Greece Turkey Cruise – Ancient Wonders – Facts at a Glance
September 21-28, 2024
619 Cabins
Athens – Bozcaada – Istanbul (Overnight) – Ephesus – Mykonos – Santorini – Athens

Ancient Wonders on a Fabulous New Ship!  Oceania Riviera
Average age 45-55

Full-Ship Charter, Clothing Optional, Couples Only

This cruise is good fit for: Newbies, Open Minded & Adventurous Couples, Swingers
Guests Under 45 – approximately 15% or 50 passengers
For Up-to-date Pricing Click "Book Now"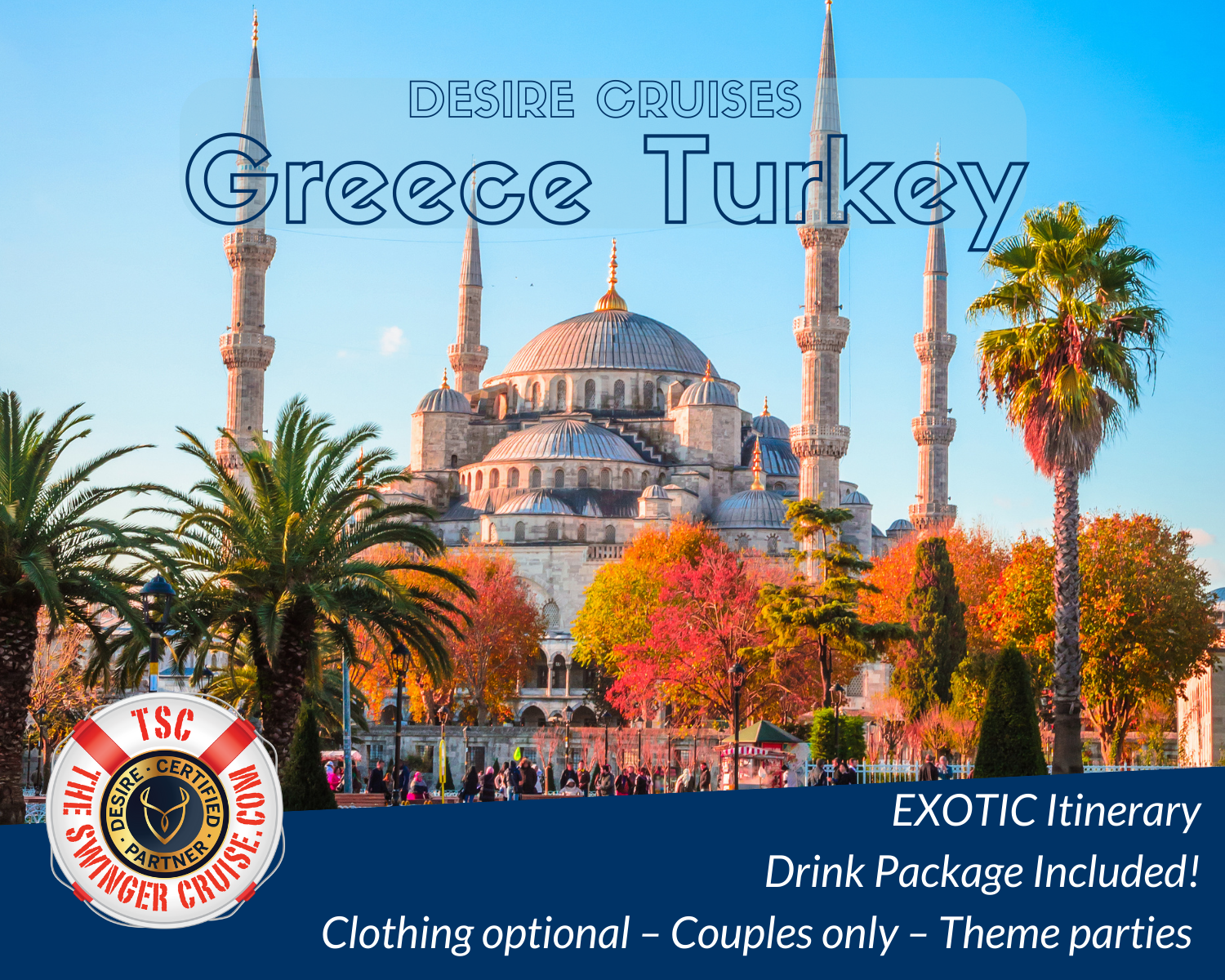 Desire Greece Turkey Cruise – Itinerary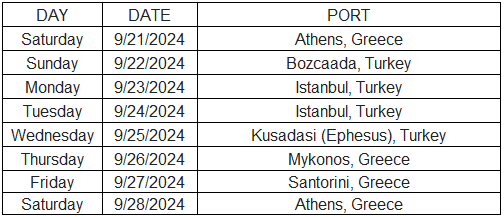 Day 1 – Athens – Saturday, September 21, 2024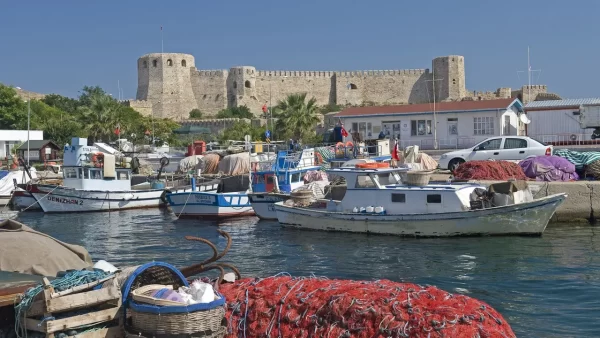 Day 2 – Bozcaada, Turkey – Sunday, September 22, 2024
Known as Turkey's best-kept secret. This island is roughly 15 square miles and is home to less than 3,000 people. This will be a fabulous day to enjoy a local day that is entirely, deliciously divine! Here you will find ruins of a Byzantine fortress, hidden beaches, cobbled alleys, whitewashed townhouses, and the pace of life is luxuriantly slow.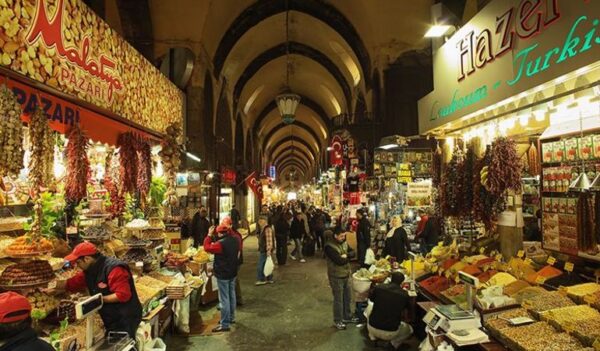 Day 3 – Istanbul, Turkey – Monday, September 23, 2024
Day 4 – Istanbul, Turkey – Tuesday, September 24, 2024
We are so happy to have time to explore Istanbul!  Choose one or two activities of start with some Turkish coffee and go all day and night!  Vistit the Grand Bazar and Spice Bazar.  Cultural sightseeing like Hagia Sophia, Basilica Cistern and The Blue Mosque.
My foodie self wants to sample meze options. And I absolutely want to visit a Turkish Bath! But be aware these are not sexy play places but a cool cultural experience. In a traditional Turkish bath (Hamam), men and women are rigidly separated by gender. Women bathe with women, and massage is done by masseuses (females). Men bathe with men and are massaged by masseurs (males). There are no "mixed" or "co-ed" baths.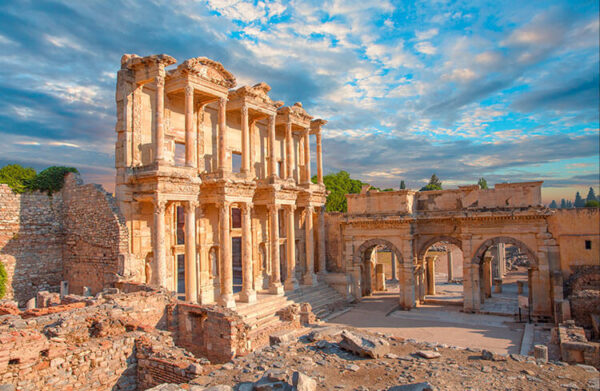 Day 5 – Kusadasi (Ephesus) Turkey – Wednesday, September 25, 2024
Ephesus is an ancient city with the most incredible access to ancient ruins anywhere! What we found so amazing is that we could go in, sit and touch this ancient archeological dig. It reflects centuries of history, from classical Greece to the Roman Empire – when it was the Mediterranean's main commercial center – to the spread of Christianity. Paved streets wind past squares, baths, and monumental ruins. The library in this photo. The Temple of Artimus 550 BC is one of the 7 Wonders of the Ancient World.
We also loved shopping for hand-crafted rugs and swimming in the crystal clear sea.  On my next trip I'm planning to do an extended day trip to swim in the thermal baths at Pamukkale.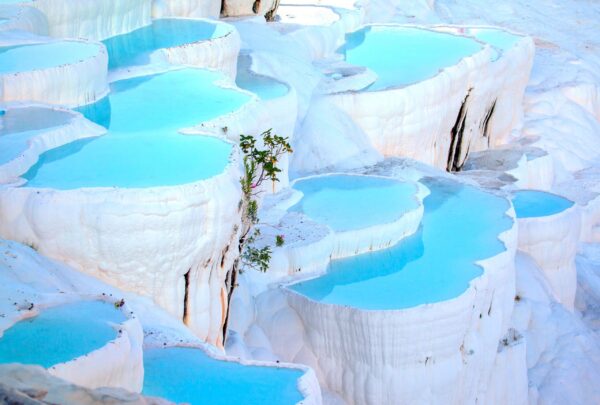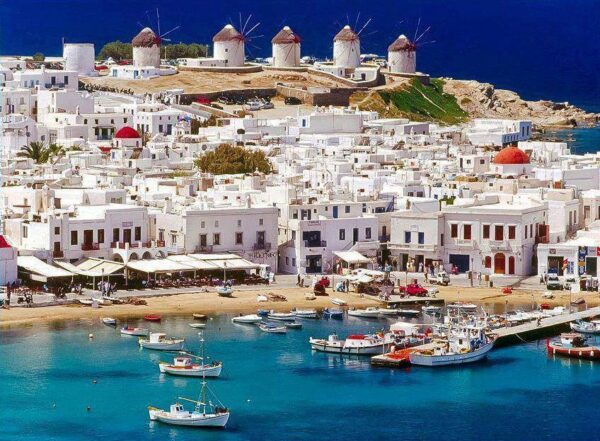 Day 6 – Mykonos – Thursday, September 26, 2024
Great Beaches, Lovely Cafes and fantastic shopping will highlight your day on the Greek Paradise Island.  Be sure to take home Greek Eye jewelry, t-shirts, and wall hangings to remind you of the blue and white greek islands.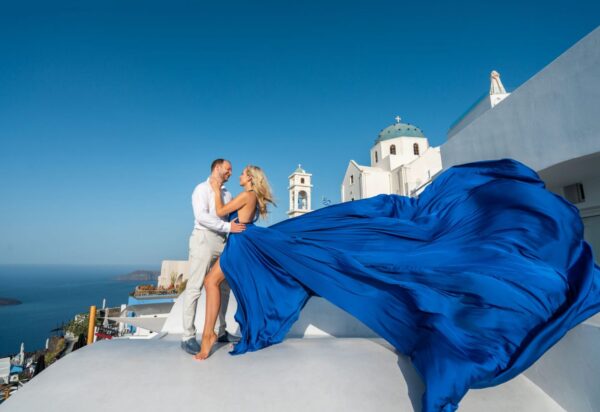 Day 7 – Santorini – Friday, September 27, 2024
If you are like me, your day in Santorini might feature a donkey ride to the top, a bottle of wine, and a breathtaking view of the blue domes and the tranquil sea.
If you are like my friends Cathy & David, you might find yourself in the photo shoot of a lifetime with a flying dress tour.  This is an amazing way to take home a lifetime memory from your Desire Cruise.  Tour options included professional photographer, or just the location and the choice of dresses so you could take your own photos!
Day 8 – Athens – Saturday, September 18, 2024 
Disembarkation.
Desire Greece Turkey Cruise – What You Can Expect
Provocative Entertainment – Feel your temperature rise…
This Desire Greece Turkey Cruise is designed for couples looking to heat things up with their fun, alluring and sensual entertainment program. Stellar theme parties that are kicked off with high-entertainment dancers and performances like none other. It adds a unique touch to their nightly events. Passengers should expect fun, interesting and spectacular sex education and couples workshops put on by top educators in their respective fields. On past cruises, it's been Dr. Jessica O'Reiley as the leading headliner for this crowd. You may know her from Playboy TV's SWING.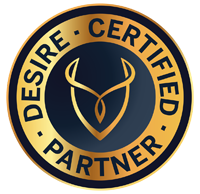 Signature Sensual Spots to Fulfill your favorite fantasies…
Desire Greece Turkey Cruise will be offering designated, exclusive spaces that stay true to the brand's concept, like a clothing-optional pool & of course, the signature playroom.
Enjoy Elegant Amenities – Live the Life of Luxury at Sea…
Desire Greece Turkey Cruise will be switching gears and setting sail on another luxurious cruise lines.  While we aren't supposed to list the name of the ship online, trust us when we say it truly is on par with the elegance you expect from Desire. If you're that intrigued, give our office a call and we can tell you all about it.
Amazing Dining Experiences – Savor the stimulating side to dining…
Desire Greece Turkey Cruise provides each guest in a choice of seven unique dining options, including their room service. Each of the venues is loved for different reasons.  Of course, the main dining room is always a fantastic way to meet your fellow cruisers, but the Aft-facing back deck at the buffet is, in our opinion, the most scenic way to enjoy casual dining. The specialty restaurants are spectacular and the Chef Table is always top-notch.
Desire Greece Turkey Cruise – Theme Parties
While onboard, we highly suggest participating in the nightly themes. We find that guests who take the time to dress in theme report a more social night which lead to more fun. These parties are designed and also a great method to help the average shy couple step into expressing their inner desires.  If you can, just let go, and become  a whole new persona for you and your partner.
How you dress is entirely up to you. You could go all-out on a theme, or simply accessorize yourself with something related to the nightly theme.
Not in the mood, or not feeling up to it? There are couples who choose not to dress up for every theme, or at all. This cruise is all about you and your partner enjoying this trip in the best way you decide.
***Theme Parties for the Desire Greece Turkey Cruise have not been decided at this time. These details are announced closer to sailing. Once we have the updated information we will post it here!***
Looking for more information about Theme Nights and why we enjoy them? [Read our Theme Night FAQ]
Desire Greece Turkey Cruise – Dining, Ship Rules, and Accommodations

Desire Greece Turkey Cruise – Dining On Board
Fabulous Cuisine for every Taste
Our Desire Greece Turkey Cruise will offer a great choice of seven unique and distinctive dining venues, not including room service. From high-class cuisine to down-home cooking, we guarantee you will love the quality of fresh ingredients, careful preparation, and variety of menu choices in every meal.
Specialty Dining ($) & Fine Wines
Desire Greece Turkey Cruise features four marvelous Specialty Restaurants – Polo Grill, Toscana, Jacques, & Red Ginger. Reservations for these venues come highly recommended as they tend to fill up quickly. You can make reservations when your online check-in is complete, or see the maitre'd as soon as you board.
Polo Grill ($)
Hours:
Location:
Sample: Menu
Toscana ($)
Hours:
Location:
Sample: Menu
Jacques ($)
Hours:
Location:
Sample: Menu
Red Ginger ($)
Hours:
Location:
Sample: Menu
The Grand Dining Room – Main Restaurant
Hours:
Location:
Sample: Menu
Terrace Cafe
Hours:
Location:
Sample: Menu
Waves Grill
Hours:
Location:
Sample: Menu
In all of our dining rooms, we encourage guests to follow a "resort casual" dress code, following good taste and common sense. Because this is a Desire Cruise you can be sexy… very sexy. The bottom line rule is that all 'naughty bits' must be covered. Guests dress for dinner much the same way they do at the resort. Sexy and dress to impress.
Room Service
The best time for room service? Whenever you say it is, 24-hours a day. Order from the full breakfast menu between 6:30 AM and 10:00 AM, and they will deliver at your appointed time. Lunch and dinner room service features a menu of hearty soups, fresh salads, gourmet sandwiches, pizzas and desserts.
Desire Greece Turkey Cruise – Rules of the Ship
Note: Desire dress is always much sexier than a regular voyage on this same ship.
Bare feet, tank tops, baseball caps, bathing suits, shorts, and jeans are not allowed in the main dining room or two specialty restaurants. (Khakis and other trousers are fine.)
When dining at the casual eateries, guests must wear footwear and a cover-up or shirt.
Inour Specialty Restaurants many guests enjoy dressing up. Formal evening wear (tuxedos and gowns) is not expected. We recommend that men bring a Sport coat or suit; this attire comes in handy for evenings onshore as well. For women, dining attire includes dresses, skirts, blouses with pants and capris, and other appropriate attire.
Desire Greece Turkey Cruise – Accommodations
The ship is completed a complete renovation in April 2016.
Ship and Stateroom Details – 
All staterooms come with:
All suites come standard with all of the above, plus:
Desire Greece Turkey Cruise – What's Included?
Our Desire trips are such a great value because there is just so much included with the cost of your cabin, this includes all meals at all restaurants and room service. (With the exception being the specialty restaurants, where you may have a slight per-person charge.)
The entertainment and nightly theme parties are also included. Sexy pool parties by the daytime, sensual theme parties and dancing each night. Plus, the Desire sexy signature playroom for exploring the more sensual parts of this trip.
Your excursions and treatments at the Spa are things you will want to budget some extra money for.
** Special for the Desire Greece Turkey Cruise **
Every booking will receive a Premium Beverage Package complimentary with your purchase! What an added value!
Desire Greece Turkey Cruise – Premium Drink Package Includes:
Desire Greece Turkey Cruise – Ultimate Drink Package Includes: 
Please note: The brands & selections are subject to change without prior notice.
Carry on Wine Policy:
Amenities Included:
For Suite Guests:
All standard amenities plus:
We want to make sure You know that what is included in a full ship charter is different than a regular Oceania Cruise.  Just an FYI for you good research types, the details & prices listed on the cruise lines web site do not apply to this charter.
Desire Greece Turkey Cruise – Pricing
The Desire Greece Turkey Cruise has just launched, and the introductory Launch Pricing will only be available for a VERY limited time. Book TODAY before the prices are raised!
Suites sell out almost immediately. Book Early!!
Desire Greece Turkey Cruise – Policies
*Reservation Policy* Please read this document carefully, and follow the instructions found in the confirmation e-mail. In case you need to change, cancel or do not show-up, this reservation policy will apply.
– Initial deposit for a guaranteed reservation will be required
– Credit Cards Accepted: Visa, MC & American Express
– All Charges will appear on your bank statement as: "OPERADORA DE YATES DE CANCUN SA DE CV"
Important Notes: 
a) American Express: All American Express charges are reflected in Mexican pesos, based on the daily exchange rate. Be aware that if you pay with American Express, your card will be subject to a surcharge in Mexican pesos, according to the hotels current exchange rate, which is variable.
b) Please be advised that your bank might charge you a fee when using your credit cards (Master Card, Visa OR American Express) for international transactions.
c) On your bank statement the charges will appear as: "OPERADORA DE YATES DE CANCUN SA DE CV".
*Requirements* Due to new Government Regulations requiring cruise liners to submit final department manifests at least 60-minutes prior to sailing, guests are requested to complete their Online Check-in no later than 5-days prior to the cruise. Guests that have not completed their Online Check-in, will be required to complete this process at the pier, 2-hours prior to the published sailing time.
Please note: All guests must be checked-in and onboard the ship no later than 60-minutes prior to the published sailing time or they will not be permitted to sail.
*Credit Cards Safety* At www.originalcruises.com we want you to feel safe and secure booking your trip with us online. For this very reason, we use Secure Socket Layer (SSL) technology to encrypt your credit card and other important information while making your reservation. The process of encryption prevents unauthorized viewing of your information, as it is securely transmitted over the Internet. Once received, your credit card information will not be transmitted over the Internet again.
*Travel Documents* Your final travel documents will be e-mailed to you as soon as we receive FINAL payment. Please check your documents for accuracy immediately upon receipt. Call Original Cruises immediately if you have any questions. Original Cruises reserves the right to charge processing fees in the event of refunds, cancellations or additional services. Should a dispute occur, charge-backs will be reviewed on an individual basis. You will be charged/billed for all accumulated costs involved, taking into consideration our liabilities, policies & responsibilities.
*Disclaimer of Liability* Original Cruises is acting only as an agent for suppliers in selling travel related services, or in accepting reservations for services that are not directly supplied by Original Cruises (such as air & ground transportation, hotel accommodations, meals, tours, cruises, etc.).
Original Cruises, therefore, shall not be responsible for breach of contract or any intentional or careless actions or omissions on part of such suppliers, which result in any loss, damage, delay, injury or death to you or your travel companions or group members. Unless the term "guaranteed" is specifically stated in writing on your ticket, invoice or reservation itinerary, we do not guarantee any of such suppliers' rates, bookings, reservations, connections, scheduling or handling of personal effects.
Original Cruises shall not be responsible for any injuries, damages or losses suffered by any traveler in connection with terrorist activities, social or labor unrest, mechanical or construction failures or difficulties, diseases, local laws, climatic conditions, criminal acts or abnormal conditions or developments or any other actions, omissions or conditions outside the control of Original Cruises.
Travelers assume complete and full responsibility for, and hereby release Original Cruises, from any responsibility in: checking and verifying any and all Passports, Visas, vaccinations, or other entry requirements of each destination, and all safety or security conditions at such destinations, throughout the length of proposed travel.
For information concerning the possible dangers in international destinations, contact the Travel Advisory Section of the U.S. State Department.
For medical information, call the Public Health Service. By embarking upon his/her travel, the travelers voluntarily assume all risks involved in such travel, whether expected or unexpected.
Travelers are warned of such risks and are advised to obtain appropriate insurance coverage against them. Traveler`s retention of tickets, reservations or bookings after issuance shall constitute consent to the above, and an agreement on his/her part to convey the contents hereto to his/her travel companions or group members.
We recommend travel insurance.
Desire Greece Turkey Cruise – Travel Insurance
Yikes, travel insurance is not a fun topic but a lot of you have asked…
This is about what happens if you are paid, packed and ready to go… and there is a problem.
The biggest 2 reasons people take insurance are:
Trip Cancellation
Medical Expenses or Medical Evacuation
Full Ship charters are better than regular cruises in many ways, however, the penalties and potential for a loss if you have to cancel is higher. Shortly after final payment, most full ship charter cruises become non-refundable. That means if you have to cancel your trip not only do you have that disappointment of a canceled vacation, but I have to tell you that you don't get your money back.
Our most popular insurance is 'World Wide Trip Protector' and provides full coverage when purchased up to 21 days after your vacation purchase.
The best value just to make sure you have coverage is 'Trip Protector Lite Expanded.'
We recommend Travel Insured – Get a quote and buy insurance  
Note: this link opens a window for Travel Insured – if you have questions pleases phone our office for assistance.
Please consider purchasing Travel Insurance
Since everyone pretty much likes me right now and I'd like it to stay that way, please consider purchasing travel insurance. Or at least don't say I didn't warn you if there is a problem.
Other coverages that take the worry out of travel:
Trip Interruption – Return air only
Trip Delay & Missed Connection coverage
Baggage Loss or Delay
Cancel for Work Reasons Options available on select policies
We strongly recommend purchasing travel insurance for your upcoming cruise. There are hundreds of circumstances that could cause you to cancel your trip, return home early or force you to seek emergency medical treatment while traveling. Travel insurance offers coverage for unforeseen problems such as an unexpected financial change or scheduling conflict, a canceled flight or a serious illness. You even have the option where you can cancel for any reason. We recommend Travel Insured – Get a quote and buy insurance 
Why book the Desire Greece Turkey Cruise?
The Desire Greece Turkey Cruise has some of the best Curated Sensual Signature Spots:
You will find exclusive, designated spaces that stay true to Desire concept on board the lavish Desire Greece Turkey Cruise. Always pure ecstasy at sea!
The Clothing-Optional Pool Area:  The pool area on Desire Cruise is clothing-optional for some hot and steamy fun (only while at sea). Desire Cruises continue its reign with a progressive & amped-up pool-side experience.
The Desire Signature Playroom:  Feel electrical currents pulse through your body while you and your partner are mixing & mingling with hundreds of like-minded couples in a highly-erotic yet still sophisticated playground for adults feeling more adventurous. If the mood strikes, take your relationship up a level and live out your 'fanta-seas', in Desire's Signature Playroom.
The Private Jacuzzi Lounge:  Enter the private, clothing-optional spa area, with a relaxing, bubbling salt water bath and powerful jets that massage you as you soak up the view in the company of other like-minded couples seeking to fulfill their fantasies. This private, intimate hotspot combines cool sophistication with steamy sensuality.
What Past Guests Have to Say…
Desire was our first lifestyle cruise and my husband's first cruise ever! We could not have been happier with the level of service from Lynn and Brian before the cruise and especially during the voyage.
How do you explain to people that this was the best cruise of your life without giving away the secret?!! Excellent food, fun environment, and incredibly awesome people onboard. I'm not sure how we could want more! Well, we have already booked our next cruise!
We could not believe the amazing quality of the food offered on this ship! We were spoiled one night at the Chef's Table, but even the Main Dining Room was second-to-none!
Definitely worth the wait! We had been booked on this cruise since before the pandemic, and it was totally worth the 3-year wait! The Desire Cruise Ship crew was exceptional. Anything we needed was supplied immediately.
The food in the restaurants was excellent. The Desire staff went above and beyond to make it a memorable and sexy cruise. The ports of call were so beautiful. In fact, we enjoyed ourselves so much, we are already booked for the Venice-Rome cruise, and we are bringing others with us! Furthermore, we are looking at the French Riviera cruise in 2024.
We can't wait to do it again!!!
I was worried this cruise was going to be an older crowd, and asleep by 10pm. Boy, could I have not been more wrong! We are in our mid 30's and enjoy dancing and having fun late into the night, and Lynn assured us that our desire for those finer things in life would be the key to fitting in with this group. She was right!
We expected to be the youngest couple onboard, mixed in with the couples age 45-65, and we were surprised how many young couples like us there were! We loved every couple we met, and savored every moment of that cruise and cannot wait to get on the next Swinger Cruise!
Why You Should book with TSC:
TheSwingerCruise.com is the only agency with ALL the cruises.
TSC Expert Agents provide first-hand experience.  We have sailed on over 41 Swinger Cruises and will help you find the one that perfectly fits your style.
Our Signature 'Get Ready' program provides all the information you need before you board the ship so you can get the most out of your vacation.
We create VIP Pre-Cruise authentic emersion events. Board the ship with a whole group of new friends.
'Must Read' Swinger Cruise Articles
We have been on over 41 full ship charters.  Here are a few articles we have written to answer your questions, calm any worries, and get you excited for the 'Best Fu@%ing Vacation!'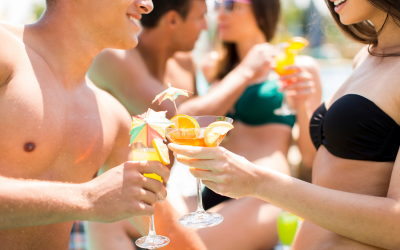 In the early days of TheSwingerCruise there was one cruise a year. You either went or you missed it. Those were the only two options. In the past 10 years several top cruising brands have emerged. The most popular Big Ship is Bliss Cruise. The secret to their...
Desire Greece Turkey Cruise
September 21 – 28, 2024
Explore the Sexy Adriatic Coastline with Desire Cruise!
Join 343 exciting couples from all over the globe.
Imagine sailing in this sensual environment.
Exploring the beautiful ports by day.
Enjoying the erotic theme parties by night.