Rockstar Austalia New Zealand – Facts at a Glance
March 24 – April 5, 2024
Celebrity Edge – 1467 Cabins
12 Nights of Authentic Aussie Adventures
Sydney – Bay of Islands – Aukland – Tauranga – Christchuch – Dunedin – Doubtful Sound & Milford
This is not a full ship charter or a swinger cruise but it's going to be an AWESOME experience!
This cruise is good fit for: Fun minded people, open minded adults looking for a fun, classy party atmosphere on a stylish updated Cruise Ship
Average age 45-65
To View Prices Click 'Book Now'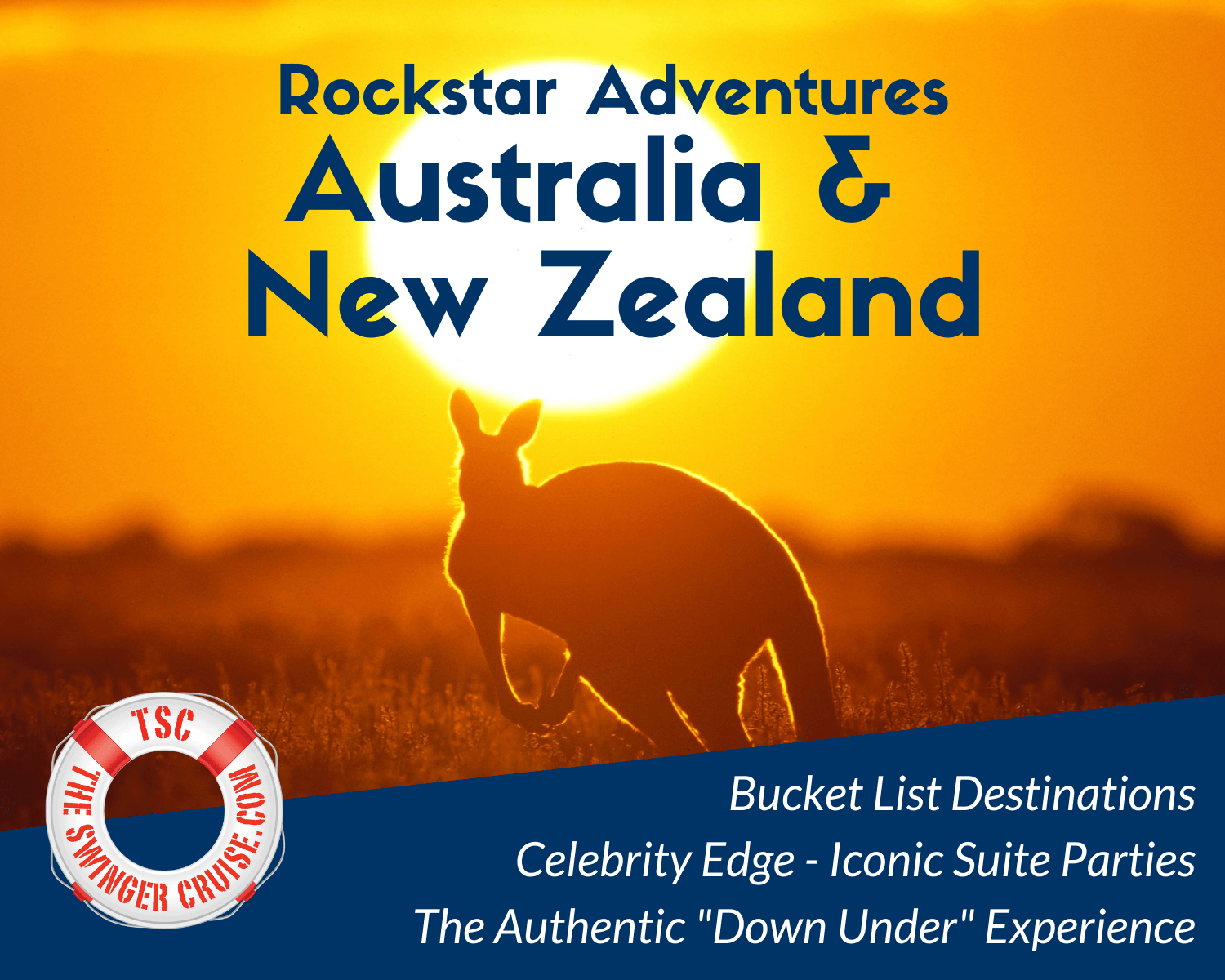 Rockstar Australia New Zealand – What's Included
We have many customers booking into the Suite Category for this trip…
Whats Included with Suites:
Premium Drinks – Included
Streaming Wi-Fi – Included
Tips – Included
All suites include an $800 onboard credit ($400 pp)
Exclusive Access to Luminae Specialty Restaurant
VIP Lounge with Gourmet Bites & Bar Service
Private Sundeck with Dedicated Attendants
Twice Daily Housekeeping
Complimentary 24-hour room service
Expanded Room Service Breakfast Menu
Priority Embarkation & Debarkation
Premium Luxury Bath Amenities
Suites are booking fast and rates are increasing based on demand. Book early for the best rates!
** Rates are subject to change until booked and based on availability.
Take a look at everything The Retreat on Celebrity has to offer: [The Retreat]
We also have Edge Balconies available in 3 Categories!
Edge Balconies Include:
Classic Drink Package – Surf Wi-FI Access – Tips Included!
Private veranda opens up to outdoor seating
Floor-to-ceiling windows and glass doors
Concierge Class Balconies Include:
Classic Drink Package – Surf Wi-FI Access – Tips Included!
Personalized Concierge service.
Private Infinite Veranda
Embarkation Day Concierge Class Lunch
Exclusive Destination Seminar
Enhanced room service breakfast menu
Complimentary Tote Bag
Aqua Class Balconies Include:
Classic Drink Package – Surf Wi-FI Access – Tips Included!
Exclusive dining at Blu.
Private Infinite Veranda
Unlimited access to SEA Thermal Suite**
VIP Tour of the Spa
Priority Check-In
Complimentary Tote Bag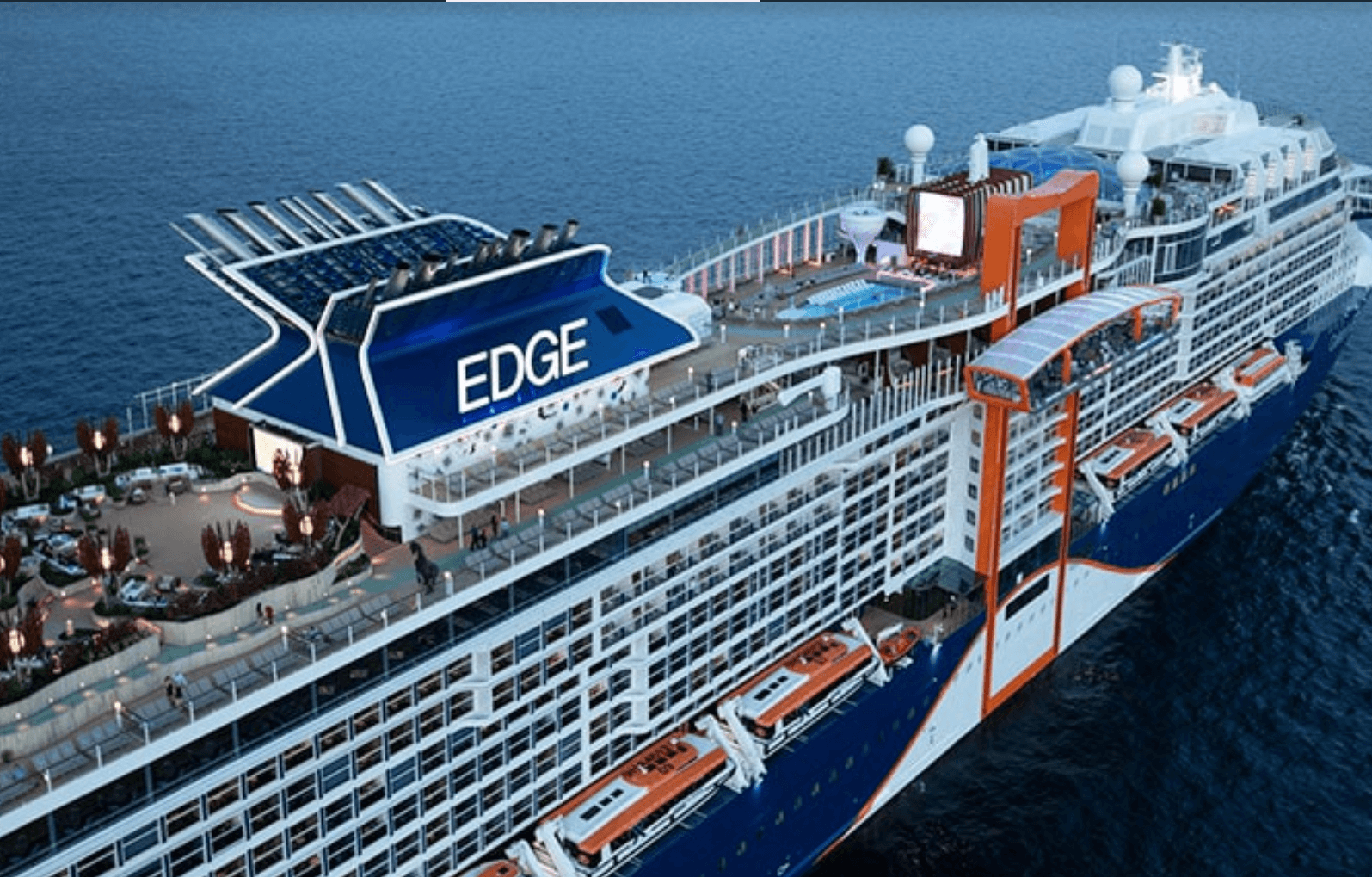 See a [Full Tour of the Celebrity Edge] here
Rockstar Australia New Zealand – Ship Details
With so many cabin selections to choose from, you can truly find the cabin perfect for our travel with us on the Rockstar Australia New Zealand Cruise. Below is just a small sample of the amazing options the Edge has to offer… Be sure to check our [Sign-Up Form] for updated pricing on all open cabins.
Iconic Suite: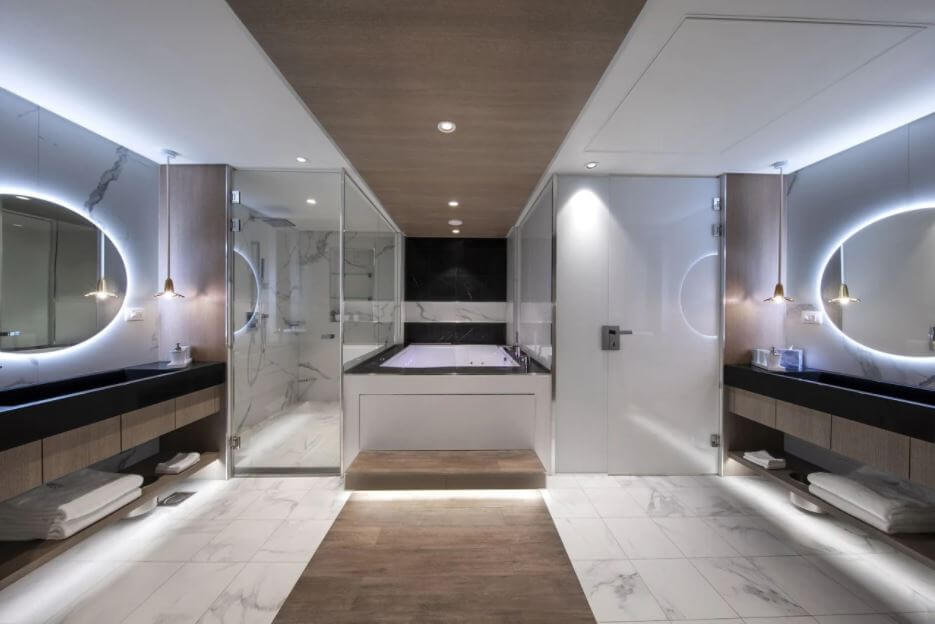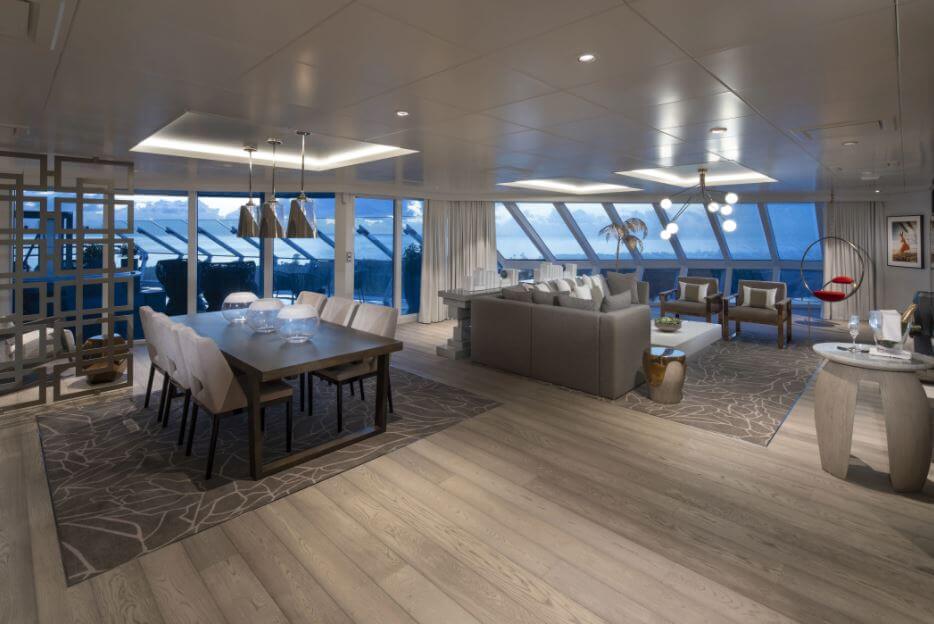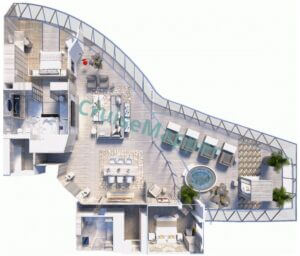 Positioned high above the bridge, these all-new suites offer panoramic views from front to back. And with over 2,500 square feet of indoor and outdoor opulence, Iconic Suites are also the most luxurious and largest in the Celebrity fleet. With 2 bedrooms, and the most massive terrace with cabana and private jacuzzi included, [This Video of the Iconic Suite] shows why this is the top-tier way to travel on the Rockstar Australia Cruise…
Penthouse Suite: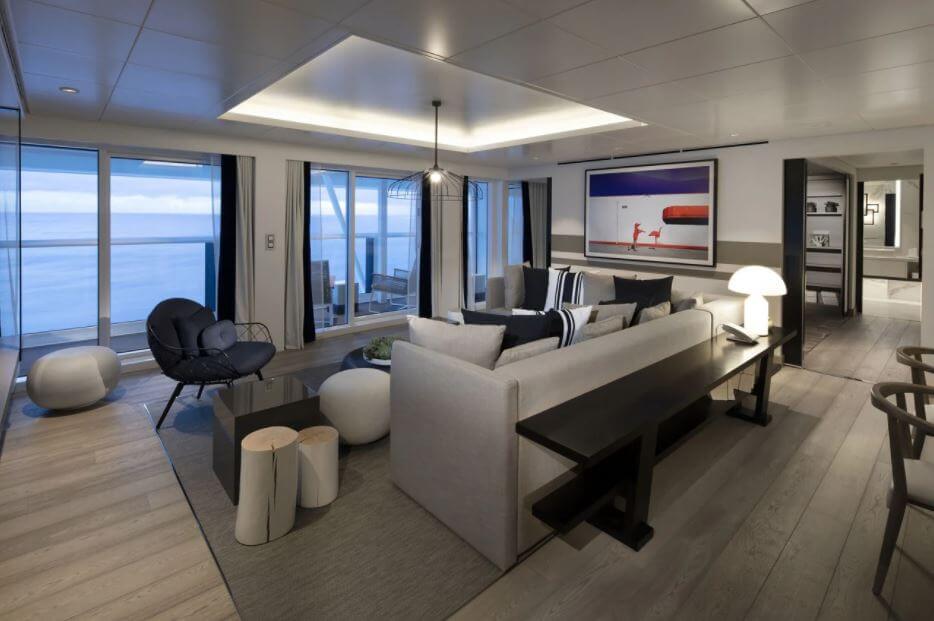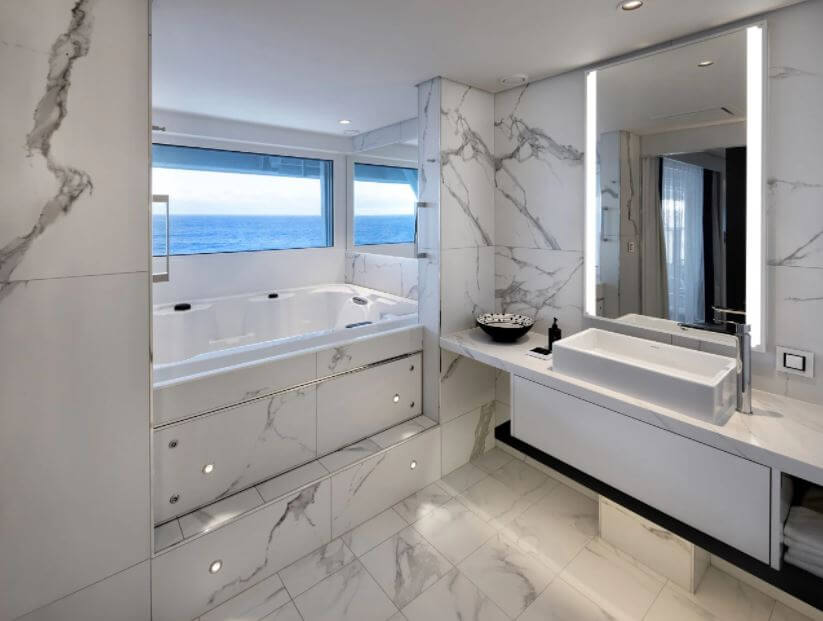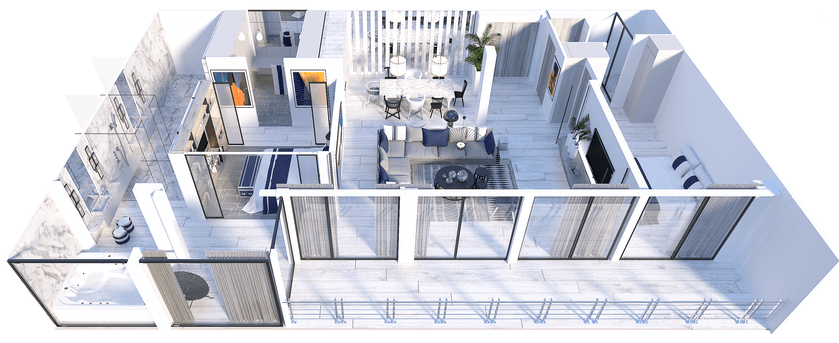 The Penthouse Suites feature a primary bedroom, bathroom, dining area, guest bedroom and bathroom, terrace, and private hot tub. They even have an attentive Personal Retreat Host on hand to ensure you never have to lift a finger during your vacation. [See a preview of the Penthouse Suite here]
Celebrity Suites: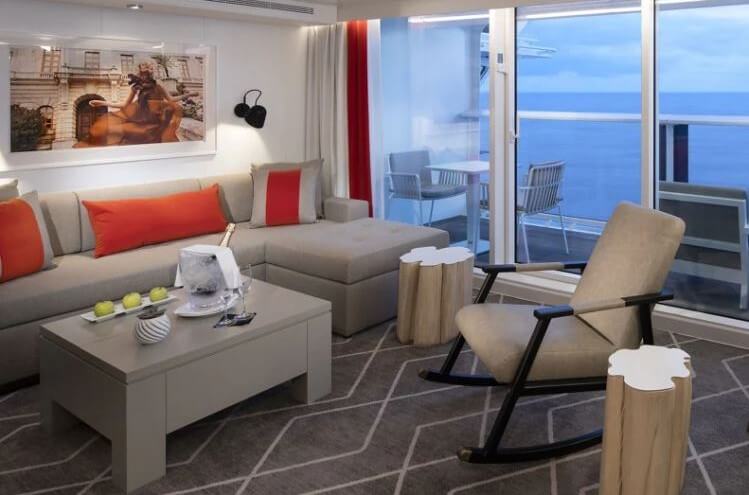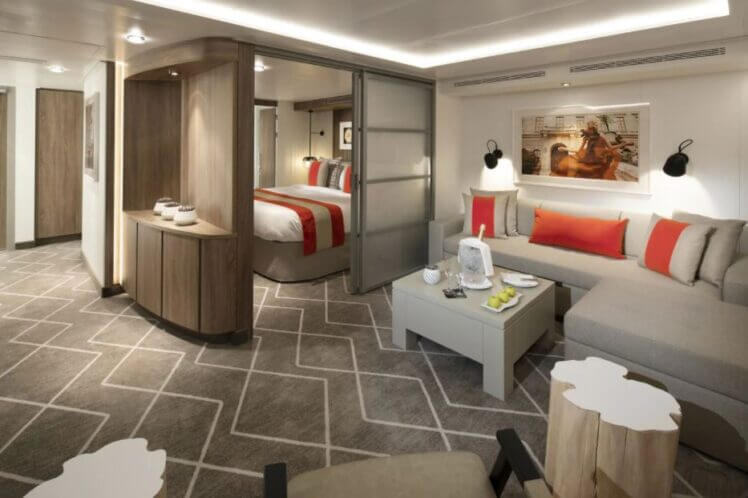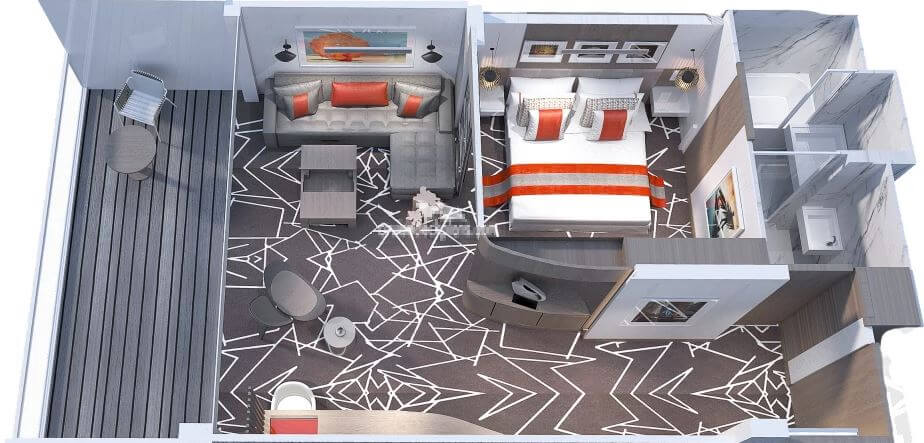 These two-room suites feature a large living area with floor to ceiling panoramic windows, private veranda, and a primary bedroom with a king-size bed featuring our signature eXhale® bedding and Cashmere™ Mattress. [Take a preview of the Celebrity Suites on the Edge here]
Edge Stateroom with Infinite Veranda: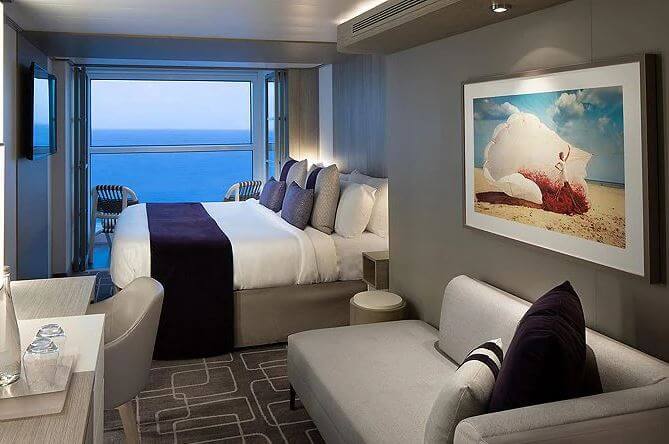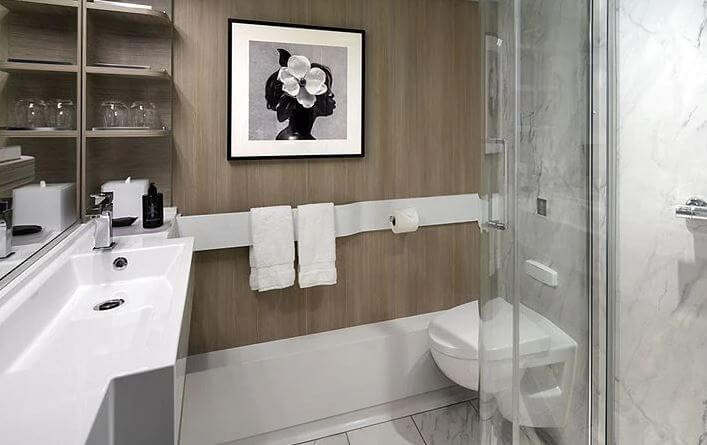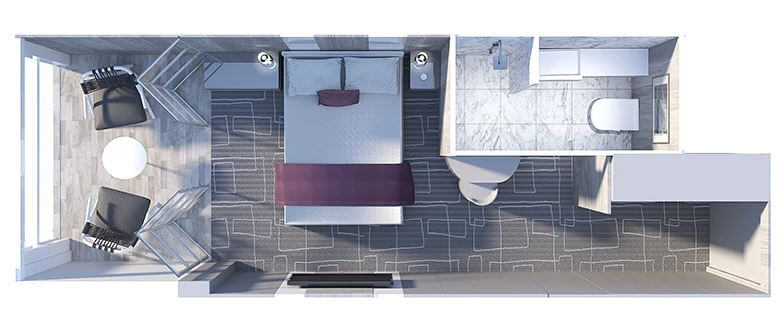 These incredible staterooms take our standard veranda stateroom and, with the touch of a button, blur—even erase—the boundaries between inside and outside living space. This brilliant innovation gives you luxurious open air access to the sea, whenever you wish. [Tale a tour here]
Rockstar Australia New Zealand – Itinerary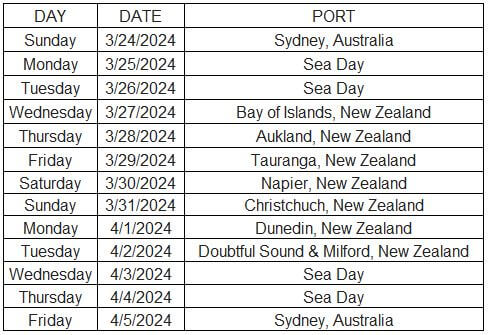 ** All itineraries are subject to change without notice.
DAY 1: Sydney, Australia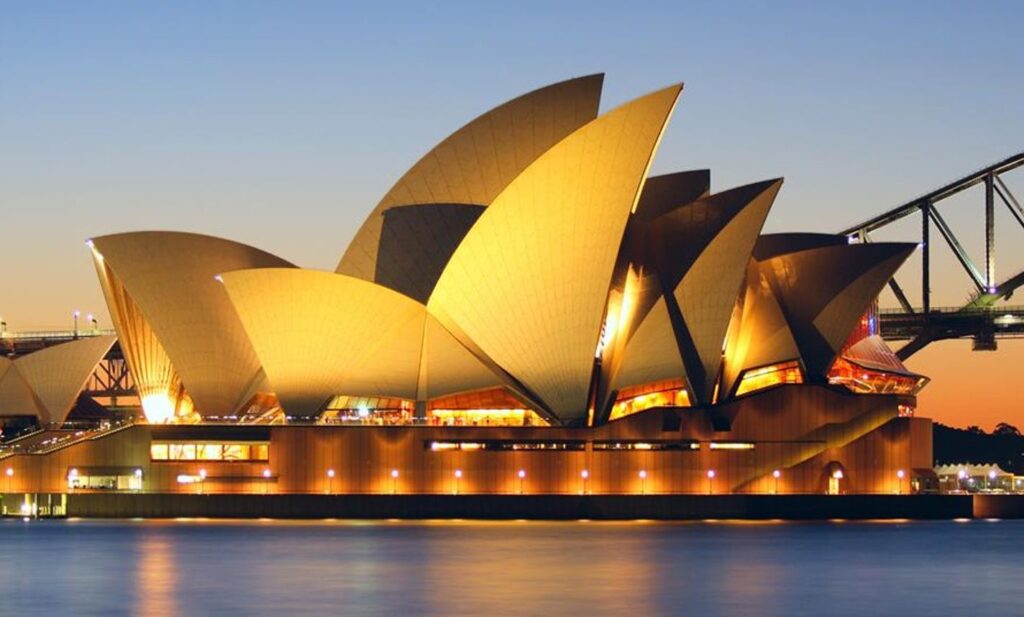 Considered one of the most cosmopolitan cities in the Southern Hemisphere, Sydney offers so much—from beaches and wineries to stunning landmarks and world-class shopping. Tour architectural marvels like the Sydney Opera House and the Sydney Harbor Bridge, view life below the surface from Sydney Aquarium's underwater walkways, or take it all in from above on a tour of the Sydney Tower. You're never far from nature in this thriving urban center. Well-known surf beaches, zoos, national parks, whale watching tours, bush tours, and the Royal Botanic Gardens—featuring over 7,500 plants—offer visitors a chance to enjoy the area's sunshine, lush greenery, wildlife, and clear blue oceans. Sydney is not only Australia's oldest city, it is also one of the most ethnically diverse cities on the globe, offering a wealth of cuisines, unique museums, and cultural opportunities. Explore lively pubs, shops, and historic buildings at The Rocks, located on Sydney harbor.
DAY 4: Bay of Islands, New Zealand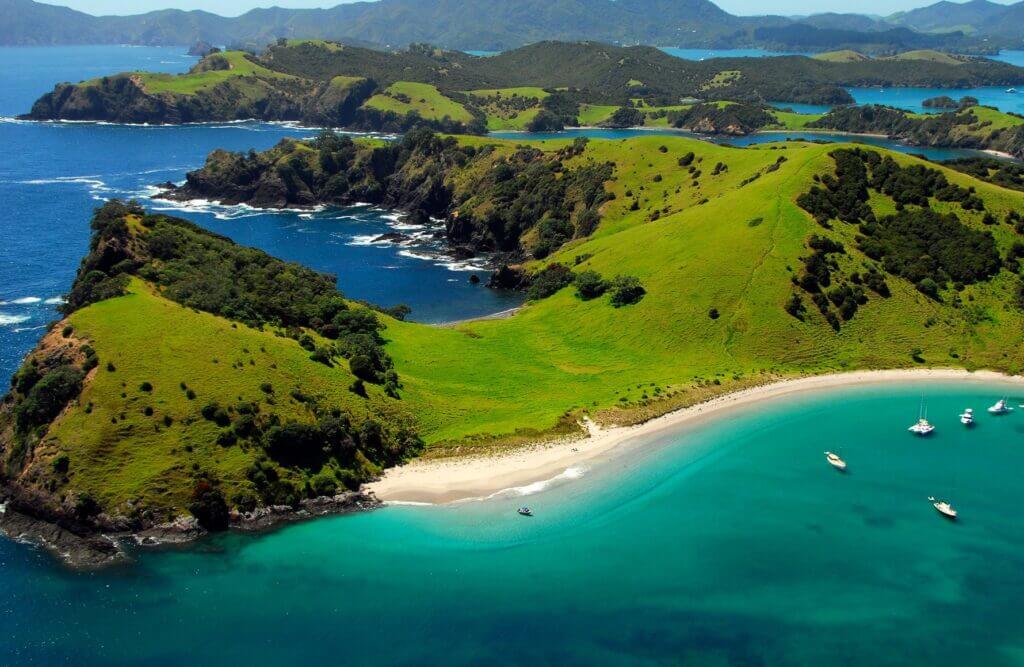 Discover indigenous New Zealand Maori culture in a land of sparkling seas and pristine beauty. Bay of Islands is a sub-tropical paradise of clear blue water, hundreds of undeveloped islands, diverse wildlife, and historical significance. The pristine oceans, warm weather, and many animal species attract nature lovers from around the globe. Take an eco-cruise and discover the area's dolphins, penguins, marlins, whales, and bird life. Journey into a beautiful cave with majestic rock formations and glow worms. Kayak, sail, swim, or sunbathe on one of the many beaches. Those who love beaches consider these in Bay of Islands & New Zealand some of the world's finest, with their perfect white sand and crystal-clear water. And as tempted as you'll be to pull up a lounge chair and soak in the surroundings, many consider a Bay of Islands cruise the ideal time to partake in more active pursuits, such as kayaking, mountain-biking, parasailing, swimming with dolphins and scuba-diving.
DAY 5: Aukland, New Zealand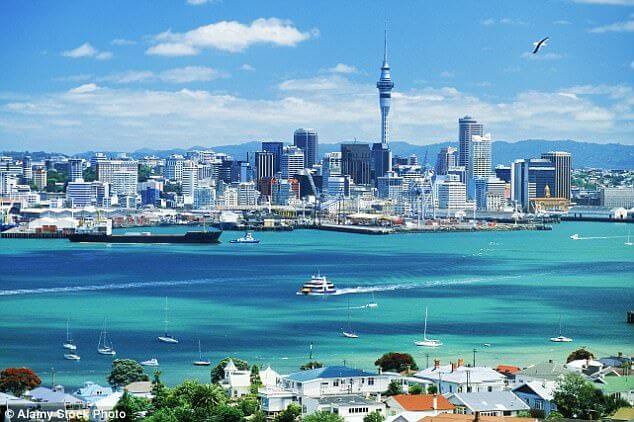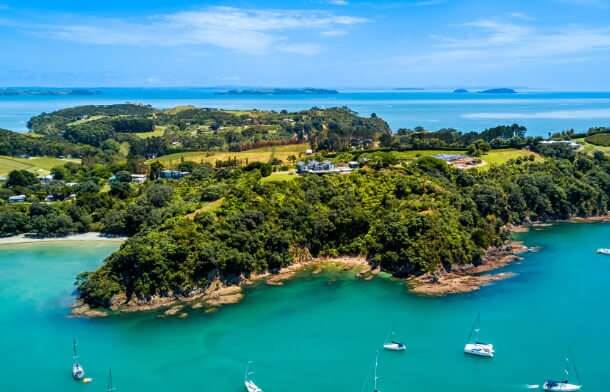 Experience New Zealand's most cosmopolitan city—a melting pot of British, Asian, Pacific, and Māori cultures. Your cruise from Auckland allows you to sample their diverse arts, entertainment, and traditions.
An Auckland cruise arrives via one of two ports, either Waitematā Harbour from the Pacific Ocean to the east, or Manukau Harbour from the Tasman Sea to the west. Perched on a skinny isthmus between them is a leafy urban cityscape of beautiful parks and modern buildings, a dramatic landscape molded by volcanoes (now dormant) and the ocean.
Natural landmarks include Auckland Domain, a central park offering great views of Hauraki Gulf; Mount Eden, with 360-degree views from the city's highest volcanic cone; Mount Victoria, a volcanic cone overlooking downtown from North Shore; and Waiheke Island, a remote site of beaches, forests, vineyards, and olive groves. The hills surrounding the city are cloaked in rainforest.
Man-made landmarks include Sky Tower, offering panoramic views from downtown; Auckland Harbour Bridge, the connection to North Shore; and Auckland Town Hall, which includes a fine concert hall.
DAY 6: Tauranga, New Zealand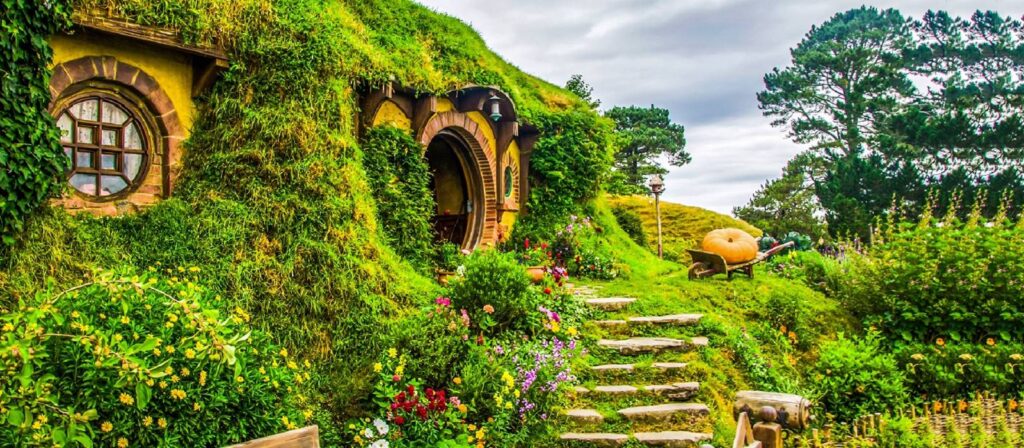 Explore this chic coastal town in the North Island and you'll discover the land of the Māori. Tauranga's white sand beaches offer something for everyone. Relax and sunbathe on one of New Zealand's most beautiful and popular coasts. Take a dip in the ocean or immerse yourself in a lush waterfall swimming hole. Watch dolphins frolic in the waves or swim with these lovable creatures. Learn to sail, try surfing, take a diving lesson, or refine your fishing technique. Water activities abound in Tauranga. If you're a landlubber, you can tee up at a golf course on your Tauranga cruise or stroll down The Strand where you can enjoy cafés and a vibrant nightlife. Journey to charming waterfalls or board one of the many eco-cruises available in the Bay of Plenty. Sometimes called the New Zealand Riviera, downtown Tauranga offers galleries, shops, history, and a vibrant café and restaurant scene. The culinary culture brings together innovative chefs working in diverse traditions. Enjoy Italian, Indian, Turkish, Thai, French, and fusion flavors. Sip a hand-crafted drink or enjoy fresh-caught seafood from the Bay of Plenty. From casual al fresco dining to sophisticated New Zealand Riviera gastronomy, Tauranga offers something to tantalize every taste.
DAY 7: Napier, New Zealand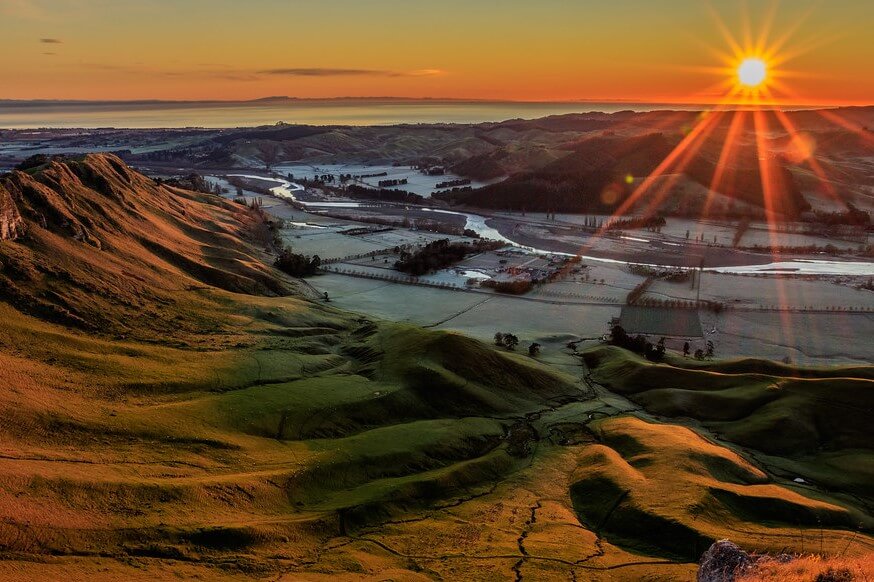 Discover Art Deco architecture, an alluring seaside town, and some of Hawke's Bay's finest wineries. Napier's devastating 1931 earthquake resulted in a magnificent rebuilding effort that makes the city home to the greatest density of Art Deco buildings in the world. Stroll along Napier's lovely streets and admire the architecture characterized by bold symmetrical shapes, linearity balanced by gentle curves, and sometimes intricate ornamentation. Visit lovely cafés, restaurants, and shops as you explore Napier's seaside sights. Enjoy a beer, or fish and chips. Take a traditional tea break and sample a Pavlova, a New Zealand dessert of meringue and fresh fruit. Journey outside the city to explore some of New Zealand's most spectacular wine vintages in Hawke's Bay. Tour the wineries and enjoy exclusive wine tastings. Bird watchers and eco-tourists can visit Cape Kidnappers to admire the world's largest gannet nesting site. Explore sheep farms, lush coastal scenery, mountain top lookouts, or just sit back and relax at a café in Napier, taking in the ambiance of another era.
DAY 8: Christchurch, New Zealand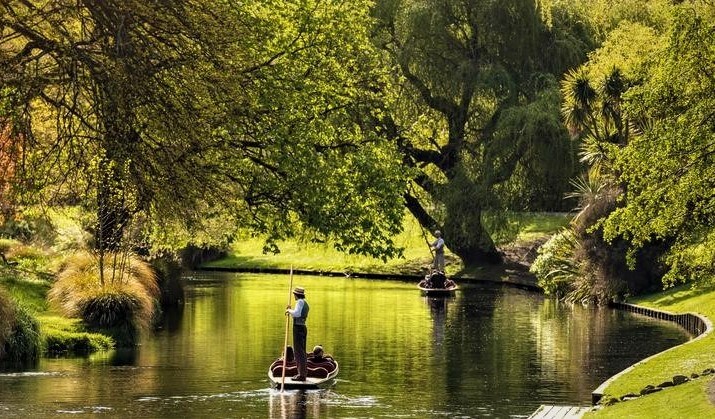 Christchurch is the city of exploration, where urban regeneration and heritage thrive. The city is constantly evolving, always giving locals and visitors something new to explore. Expect street art and innovative projects, a bustling hospitality scene and established green spaces. Christchurch is the newest city in the world, and it's time the world rediscovered its secrets.
The central city is filled with cutting-edge architecture alongside some of the oldest buildings in New Zealand. The Avon River intersects the city, bringing a natural landscape to the urban environment. Christchurch is the basecamp for South Island exploration, with the Banks Peninsula within reach, as well as the stunning Southern Alps and famed Canterbury Plains.
The surrounding Canterbury region offers visitors unforgettable journeys and picturesque towns, zen-like retreats and thrill-seeking opportunities. Escape to Hanmer Springs for a thermal soak, or north to Kaikōura to encounter the local wildlife. Everything New Zealand has to offer can be found here.
DAY 9: Dunedin, New Zealand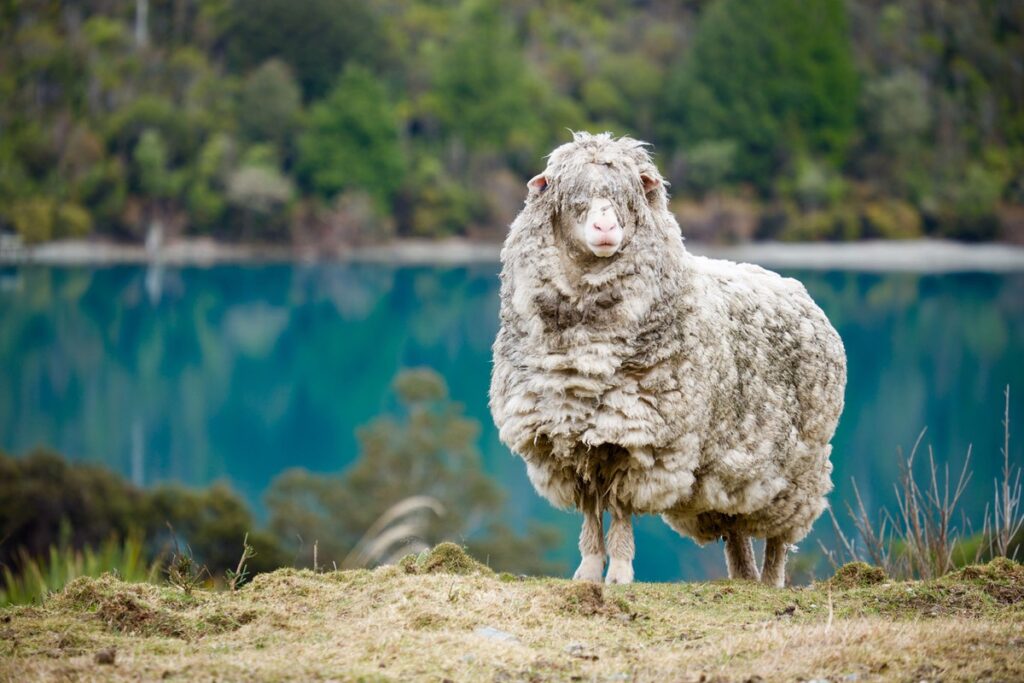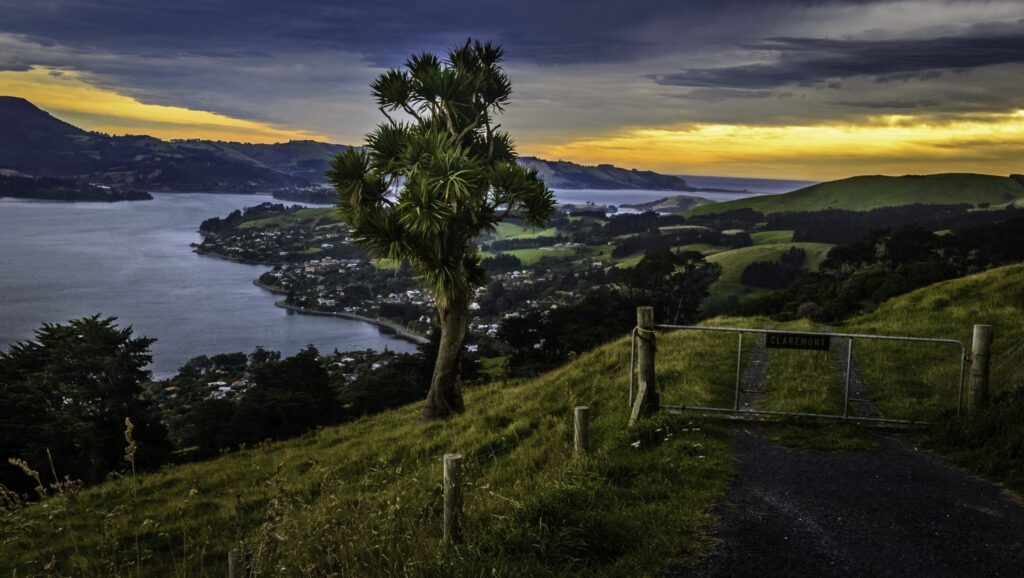 Here in this capital of architectural heritage, you might think your Dunedin cruise had taken you to Edinburgh. The architecture, scenery, and culture—if not the accents—borrow heavily from those in Scotland.
Take a harbor cruise to spot albatrosses, cormorants, and other sea birds. You might even see penguins, dolphins, and seals. In town, stroll the spectacular Dunedin Botanic Garden, discover ancient Maori artifacts in the Otago Museum, or learn all about beer at Speight's Brewery—touring, tasting, and shopping for beer gear.
Browse several engaging art galleries in the central Octagon neighborhood, also known for bars and cafés. Look for experimental exhibitions at Blue Oyster Gallery, bespoke jewelry at Chris Idour, old masters at Dunedin Public Art Gallery, heritage at Reed Gallery, and New Zealand artists at the De Novo and Milford galleries.
Head inland aboard Taieri Gorge Railway, departing from the charming gingerbread Dunedin Railway Station, for a four-hour excursion past former gold-mining sites.
Venture out to Otago Peninsula and visit 19th-century Larnach Castle—New Zealand's only castle—perched on a hill overlooking the harbor. Hear stories of scandal, tragedy, and intrigue—all part of its lavish history. Top off your cruise to Dunedin with Highland dancers and bagpipers at Larnach.
DAY 10: Doubtful Sound & Milford, New Zealand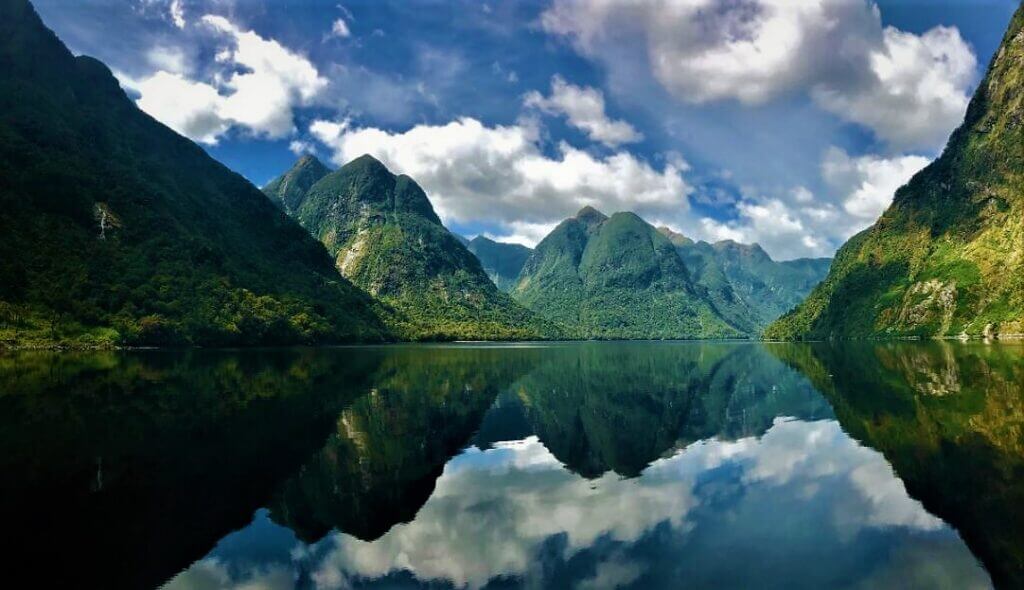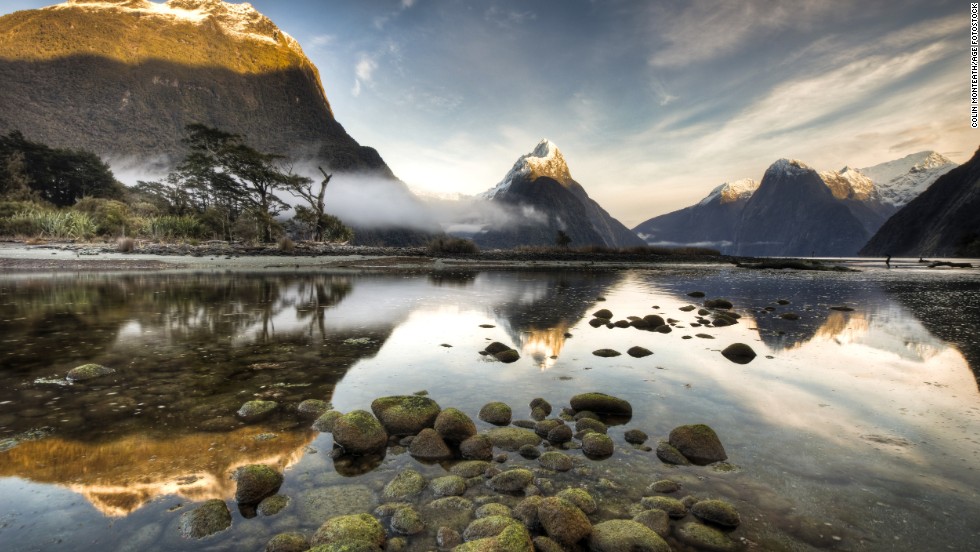 As cold mountain water cascades from the cliffs above Doubtful Sound, it creates an unusual phenomenon-a dual-layered marine ecosystem of fresh and saltwater. This serves as a playground for a number of species, including fur seals and two types of penguins – the fiordland crested and blue penguin.
As we sail into the narrow fjords of the Milford Sound, even your massive ship seems to shrink in comparison to the towering cliffs topped by lush mountain terrain. Situated within Fiordland National Park, this natural wonder is part of the Te Wahipounamu World Heritage Site and is protected by its natural geography, which makes it a haven for all types of wildlife.
Rockstar Australia New Zealand – Pricing
All Rates are total for 2 and include all taxes and fees.
Rockstar Australia New Zealand – Policies and Payments
Payments:
Due at the time of booking – Deposit – $1500-$1800
June 15, 2022 – 25%
December 15, 2022 – 25%
June 15, 2023 – 25%
December 15, 2023 – Final balance
Cancellation:
Please contact us directly for your cancellation policy for this cruise
We strongly recommend travel insurance
https://www.theswingercruise.com/travel-insurance/
Rockstar Australia New Zealand – Travel Insurance
Welp, travel insurance is never a fun topic to talk about but a lot of you have asked…
We're talking about what happens if you are paid, packed and ready to go… and then there is a problem.
There are 2 big reasons people choose to take insurance:
Trip Cancellation
Medical Expenses or Medical Evacuation
Full Ship charters are better than regular cruises in many ways, however, the penalties and potential for a loss if you have to cancel is higher. Shortly after final payment, most full ship charter cruises become non-refundable. That means if you have to cancel your trip not only do you have that disappointment of a canceled vacation, but I have to tell you that you don't get your money back.
Our most popular insurance is 'World Wide Trip Protector' and provides full coverage when purchased up to 21 days after your vacation purchase.
The best value just to make sure you have coverage is 'Trip Protector Lite Expanded.'
We recommend Travel Insured – Get a quote and buy insurance
Note: this link opens a window for Travel Insured – if you have questions pleases phone our office for assistance.
Please, consider purchasing Travel Insurance
Since everyone pretty much likes me right now and I'd like it to stay that way, please consider purchasing travel insurance. Or at least don't say I didn't warn you if there is a problem.
Other coverage options that take the worry out of travel:
Trip Interruption – Return air only
Trip Delay & Missed Connection coverage
Baggage Loss or Delay
Cancel for Work Reasons Options available on select policies
We strongly recommend purchasing travel insurance for your upcoming cruise. There are hundreds of circumstances that could cause you to cancel your trip, return home early or force you to seek emergency medical treatment while traveling. Travel insurance offers coverage for unforeseen problems such as an unexpected financial change or scheduling conflict, a canceled flight or a serious illness. You even have the option where you can cancel for any reason. We recommend Travel Insured – Get a quote and buy insurance
Rockstar Australia New Zealand – Theme Nights
The theme parties on this cruise are designed to help you step into expressing your inner desires. Let go, immerse yourself in the fantasy of it. Guests who dress in theme report more social interaction and more fun.
You can go all out on a costume or simply echo the theme with an accessory. Not in the mood? No problem it's all about doing your own thing with your partner and having a wonderful time.
** Theme nights have not been announce for this sailing. Once our Theme Nights have been announced we will update this information **
In the meantime, read our [Theme Night FAQs]
Why book the Rockstar Australia New Zealand Cruise?
Bucket List Adventure into the Down Under
We are traveling aboard the luxurious Celebrity Edge, a "ship designed to leave the future behind."
Suite guests receive stunning accommodations, a private restaurant, and an exclusive lounge and sundeck that rival any high-end resort.
See the best locations and ship-sponsored tours of the magical destination
Party in the MASSIVE suites with our group!
Smaller group of amazing close-knit couples ready to take on all things this trip provides!
Flavors from the local culture prepared by crafted by a Michelin-starred chef
What Past Guests Have to Say…
We've sailed on many Celebrity ships, but never the Edge! I have to say that the high-standard of dining on the other ships are top-notch, so we can onlyimagine what this trip will bring! (Our favorite was always the Chef Table Dinner.)
We usually take full advantage of all the locally-inspired cuisine and started a fun tradition by turning the "afternoon tea" into a kick off for the afternoon room party we hosted!
The first time we booked a cruise we weren't sure if we would fit in. We are in our mid 30's and Lynn assured us that our desire for the finer things in life would be the key to fitting in with this group. She was right!
We were onboard the New Years Eve cruise group trip and were amazed how many couples we met in our age range. It was still such a memorable experience!
When we first booked, I wasn't sure if me and my boyfriend would fit in. We're both in our mid 30's, but Lynn assured me that our need for the higher-end, and finer things in life would be the thing to help us fitting right in with this crowd. Man, was she right!
We were expecting couples between 45-65 years old, which was fine, but we were definitely surprised with how many young couples there were! Every moment was new and exciting physically and mentally and we loved every second! There's no way we can wait to get on our next Swinger Cruise!
Why You Should book with TSC
TheSwingerCruise.com is the only agency with ALL the cruises.
TSC Expert Agents provide first hand experience. We have sailed on over 37 Swinger Cruises and will help you find the one that perfectly fits your style.
Our Signature 'Get Ready' program provides all the information you need before you board the ship so you can get the most out of your vacation.
We create VIP Pre-Crusie authentic emersion events. Board the ship with a whole group of new friends.
'Must Read' Swinger Cruise Articles
We have been on over 37 full ship charters. Here are a few articles we have written to answer your questions, calm any worries, and get you excited for the 'Best Fu@%ing Vacation!'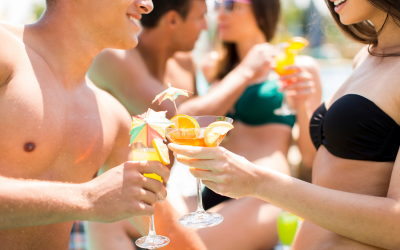 In the early days of TheSwingerCruise there was one cruise a year. You either went or you missed it. Those were the only two options. In the past 10 years several top cruising brands have emerged. The most popular Big Ship is Bliss Cruise. The secret to their...
Rockstar Australia New Zealand
March 24 – April 5, 2024
Explore the unforeseen lands of Australasia!
Join dozens of beautiful couples in our group from all over the world.
Imagine sailing in this unique environment with other like-minded people.
Explore the beauty that these natural landscapes have to offer.
Party with sensual suite parties throughout the week!